Strange things can happen when natural gas pipeline companies move forward with final investment decisions (FID) and pipeline construction, even after they have received FERC approval. In the case of Dominion's Atlantic Coast Pipeline (ACP), environmental concerns over the habitat of endangered species has stymied progress of the 600-mile project which will help evacuate Appalachian basin oversupply by moving gas from West Virginia to North Carolina. We admit, we have not heard of the "Rusty Patched Bumble Bee" before, but evidently this endangered species lies in Atlantic Coast's path and this, along with issues related to the pipeline's Appalachian Trail crossing location, is enough to push back completion to sometime in 2022.
Direly, Morgan Stanley recently predicted that the ACP will likely be scuttled altogether because it expects the Fourth Circuit to reject a newly issued Biological Opinion and Incidental Take Statement.[1] Dominion's spokesperson, Aaron Ruby, contests this assertion stating "We remain committed to completing the project for the good of our economy and the environment … Dominion expects the project to enter service in early 2022".
This debate calls into question what impact would this project's demise have on Appalachian prices and production, as well as regional gas flows and prices elsewhere.
In order to help answer these questions, we will first look at RBAC's latest GPCM® quarterly release, 19Q3base, and analyze the forecast as it relates to pipeline utilization rates, seasonality trends, regional supply, and both absolute and basis prices.  Subsequently, we will run several forward-looking scenarios through 2030, where we will examine the impacts of ACP's removal from the forecast.  We will also turn off GPCM's auto-expand feature to explore the impact of no additional pipelines stepping in to fill the ACP's void, thus providing a more accurate view should no additional pipeline expansion or new capacity come online by 2030.
Analysis using RBAC's 19Q3base highlights several important market impacts relating to the pipeline project:
First, there is a demonstrated market need for the project in the coming decade;
Second, the pipeline would provide upward pressure for Appalachian basin natural gas prices that have been persistently weak for years;
Third, the project's utilization is likely to be quite seasonal, which makes sense given that its anchor shippers are utilities whose demand is seasonal;[2]
And finally, additional infrastructure beyond ACP will be required to transport Appalachian gas to markets outside of the region; this can be seen by examining GPCM's auto-expand report which shows additional pipeline capacity which is automatically flagged as added in the Appalachia regions due to strong utilization rates and economic rents.
Taking a deeper dive into seasonality, flows and utilization rates, we see from Figure 1 that the 19Q3base shows high seasonality and flows that average approximately 1.2 Bcf/d. This means that the project's utilization would be highly seasonal during the next decade, with average annual utilization rates near 83% and full utilization during peak winter months – in line with expectations given that the project's firm shippers are utility companies.
Figure 1: Atlantic Coast Pipeline Average Monthly Flows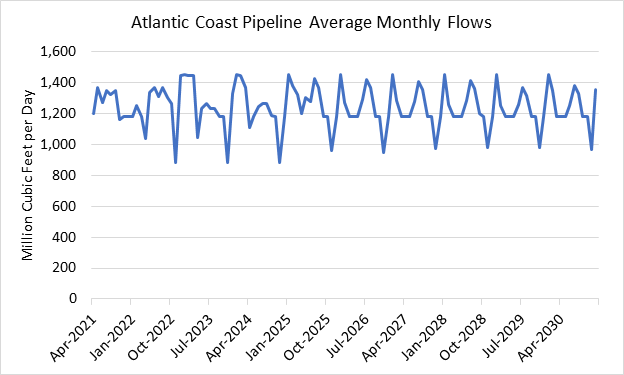 Most importantly, how would the project (or its absence) impact the market? Assume for a second that no additional pipelines are constructed during the next decade other than currently announced projects that are likely to proceed; i.e., GPCM's auto-expand feature is turned "off". In this hypothetical scenario, basis at Appalachian pricing points would become increasingly negative relative to the Henry Hub, as more gas becomes effectively stranded in the region due to a lack of pipeline takeaway capacity. Furthermore, as Figure 2 clearly shows, ACP has very significant upward pressure on producer area prices in the Appalachian basin. Comparing a world with ACP to a world without ACP using GPCM shows that the project would narrow the basis at Dominion South by an average of $0.27/MMBtu during the 2020's and up to $0.62/MMBtu during peak months.
Figure 2: Dominion South Basis Impact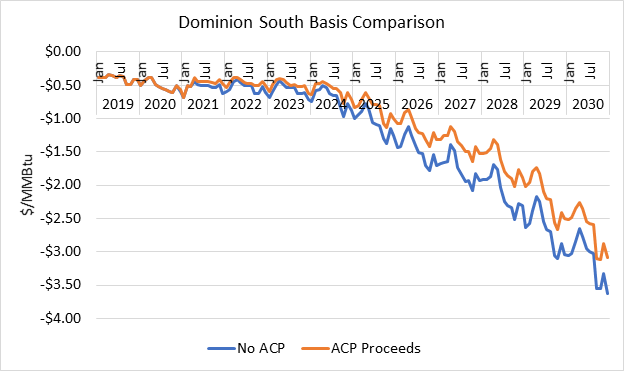 However, it is likely that additional pipeline capacity beyond currently announced projects will need to be constructed to transport Appalachian gas to market, especially if ACP scuttling occurs. GPCM's fully adjustable auto-expansion feature is a useful tool for predicting likely future bottlenecks in the interstate natural gas pipeline network. It allows pipelines that meet an economic hurdle to expand, simulating additional pipeline buildout beyond the narrow window of currently announced projects. The auto-expansion feature in the 19Q3base release predicts that significant capacity additions beyond ACP will accompany continued Appalachian natural gas production increases. This more likely scenario shows two things:
First, that there is a substantial need for additional natural gas infrastructure in the region;
Second, that ACP's individual market impact will be far more muted because of future competition.
In the base scenario employing GPCM's auto-expansion feature, ACP only reduces the basis of Dominion South by an average of $0.07/MMBtu (with a peak of $0.16/MMBtu) during the 2020's.
This isn't to say that there is not a market need for the project (clearly the high level of firm transportation agreements on the project suggests otherwise), rather that it is one of several projects expected in the future. We can see evidence of this by examining the utilization rates of other pipelines and the amount of new pipeline capacity that is built in the scenarios where ACP is removed. Figure 3 below shows that Appalachian production is expected to grow by an additional 6.3 Bcf/d during the next decade to primarily serve markets in Midwest, Southeast, and Gulf Coast LNG exports.
Figure 3: Change in Appalachian area supply from 2021 to 2030 (units in billion cubic feet per day)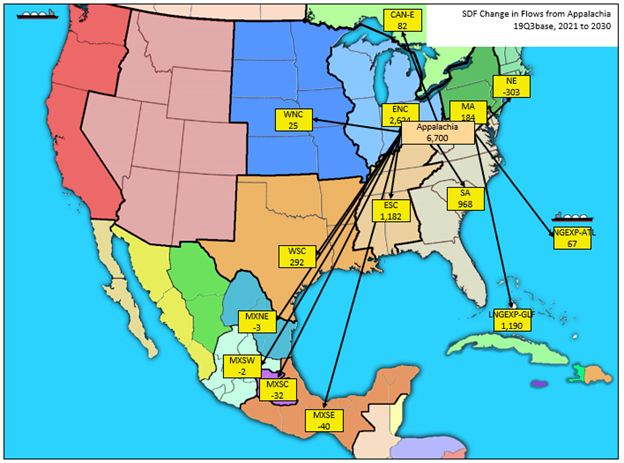 The uncertainty surrounding the pending court decision highlights the need for analytical systems to quickly and accurately estimate the likely market impacts under all potential outcomes. Fortunately, RBAC, Inc.'s GPCM® Natural Gas Market Forecasting System™ provides licensees a state-of-the-art modeling system that has been the industry standard for over twenty years. GPCM is a pipeline specific model that allows users to quickly evaluate the impacts of any project within the context of the interstate pipeline network.
If ACP fails to move forward, it's unlikely to have a major market impact beyond its direct customers unless the court rulings signal an increase in the current difficulties pipelines are having to obtain the requisite permits.
Further, as the 19Q3base and Dominion's heavily subscribed open season demonstrates, ACP is expected to be a highly utilized, demand driven pipeline designed to meet peak needs of its utility customers. Using GPCM, analysts can estimate specific quantitative impacts of any proposed pipeline infrastructure – a powerful, versatile tool that can empower market participants to make better-informed decisions.
[1] "Dominion Confident of 2022 Atlantic Coast Startup, Despite Analyst Doubts", Pipeline & Gas Journal, December 22, 2019. <https://pgjonline.com/news/2019/12-dec/dominion-confident-of-2022-atlantic-coast-startup-despite-analyst-doubts>
[2] Federal Energy Regulatory Commission, Order Issuing Certificate (Docket No. CP15-554-00), Pg. 5. <https://www.ferc.gov/CalendarFiles/20171013192035-CP15-554-000.pdf>