The 19Q1base quarterly GPCM database has been loaded to the RBAC website for download.
Please note that you will find 2 documents on the RBAC website ready for download rather than one – 1st) 19Q1base Quarterly Documentation which has more graphs and more comparisons to the previous quarter, and 2nd) the beginnings of a new GPCM User Manual that contains information that was previously in our Appendices and Quarterly Documentation, but will be augmented going forward with more write-ups as a reference tool for our users. We welcome your comments and suggestions as we continue to enhance our materials for your use as GPCM fundamental Natural Gas analysts.
Highlights of 19Q1base:
Henry Hub price level is slightly higher in 19Q1base overall from 2019 – 2037 due to stronger gas-fired generation from the updated EIA AEO 2019 with the longer-term going slightly lower.
Henry Hub Price Forecast (USD per MMBtu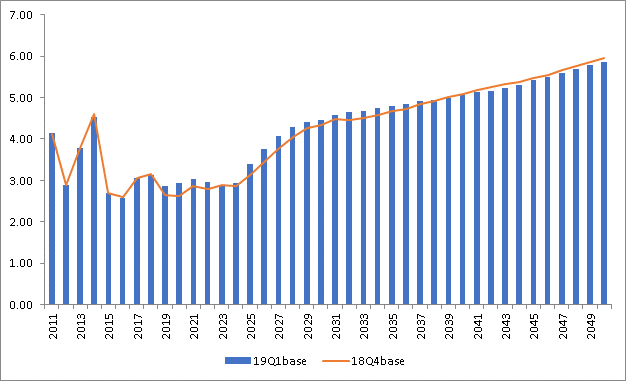 Supply
Estimates for dry gas production in North America increased by 2.4 Bcf/d for 2019 but muted to become generally flat to last quarter's release by 2050.
Routine and exception-based methodology scrubs of our supply models have brought about a few changes in 19Q1base:

Improved fit to EIA Dry Production for Texas supply areas
Adjusted calculations for both Lease & Plant Fuel and Production in British Columbia and Alberta
Improved balancing item in Mexico as a result of increased visibility into supply, demand, lease and plant fuel, pipeline fuel, and infrastructure markets there
Demand
The 2019 EIA Annual Energy Outlook for gas-fired generation has been incorporated for 19Q1base. This resulted in increased electric gen demand as compared to last quarter as Census Region demand was significantly different due to their assumption of lower natural gas prices and favorable costs for renewables that resulted in future generation mix sensitivity.
Natural Gas Vehicle demand was updated in the Demand Case Builder to reflect slower growth throughout the forecast time period of 2050.
Physical Impacts
The explosion that impacted Westcoast pipeline in the Prince George area has been built into the model and updated with nomination flows.
Scrubbing of the SoCal system has been done in view of the Aliso Canyon Storage capacity changes and the maintenance of the Lines 3000 and 235-2 lines has been built into the model to more closely reflect actual capacities, etc.
LNG Export Facilities
LNG Calcasieu and the feeder pipeline TransCameron have been turned on in the 19Q1base database.
Infrastructure
Brazoria Interconnector Gas (BIG) pipeline has been added to 19Q1base and turned on.
Transco Gulf Trace and Gulf Connector as well as the Texas Eastern South Texas Expansion Project (STEP) and the Stratton Ridge Expansion project have been added to the 19Q1base database.
Supply Links have been updated for Texas RRC6 Haynesville production to reflect the Enbridge East Texas and Midcoast gathering systems into Texas Eastern Pipeline, the Align gathering system into NGPL, and Panola County production into Enterprise Texas pipelines.
El Paso tariff rates and fuels have been updated.
Chihuahua pipeline has been renamed to Tarahumara Chihuahua.