The 19Q2base quarterly GPCM database has been loaded to the RBAC website for download.
Please note that you will find 2 documents on the RBAC website ready for download rather than one – 1st) 19Q2base Quarterly Documentation and 2nd) the beginnings of a new GPCM User Manual that contains information that was previously in our Appendices and Quarterly Documentation, but will be augmented going forward with more write-ups as a reference tool for our users. We welcome your comments and suggestions as we continue to enhance our materials for your use as GPCM fundamental Natural Gas analysts.
Highlights of 19Q2base:
Henry Hub
Henry Hub price level is lower overall due to:

Lower US industrial demand from updated US Industrial demand regressions
Lower Canadian gas-fired generation outlook for Canada from NEB (Canada's National Energy Board)
Higher Supply Outlooks for Permian and Haynesville shale in close proximity to Henry Hub
Henry Hub Price Forecast (USD per MMBtu)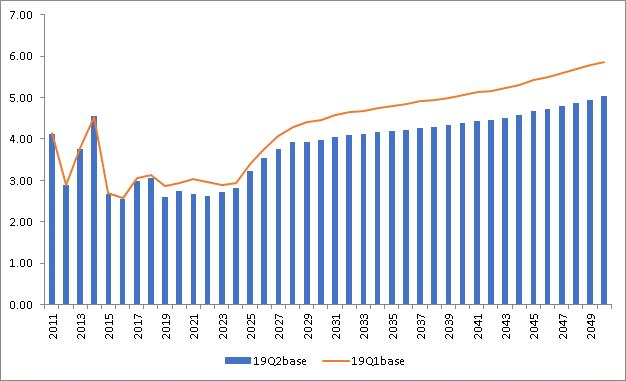 Supply
North America dry gas production is forecast to grow from 114 Bcf/d in 2019 to over 144 Bcf/d by 2050, averaging approximately 2% higher production than last quarter's release

Permian, Appalachia and Arkla-East Texas are the primary drivers of increased production
Arkla-East Texas production revised to better reflect the production rebound in Haynesville shale as reported by the Texas RRC

Continued improvement in supply model processes have resulted in better state-level calibration to EIA data
Mexico production was reduced throughout the forecast due to improvements in the supply modeling processes and more accurate production decline curves
Demand
Industrial sector regression demand models for the US were updated this quarter, and resulted in lower sector demand, which by 2050 is 2.3 Bcf/d less than last quarter's release
Natural gas demand from the power sector increases because lower gas prices incentivize greater consumption which largely offsets reduced Industrial sector demand
Lower Canadian gas-fired generation outlook for Canada from NEB (Canada's National Energy Board), particularly in Ontario as they are implementing energy conservation programs, refurbishment of their Nuclear power plants, and increases in other energy sources such as hydro.
Lease and Plant Fuel demand increases, due to greater dry gas production
Electricity and Lease and Plant Fuel combined demand more than offsets the drop in Industrial demand through 2040; thereafter, the lower Industrial demand is enough to drive total consumption lower vs last quarter's release
Physical Impacts
The explosion that impacted Westcoast pipeline in the Prince George area has been built into the model and updated with nomination flows.
Scrubbing of the SoCal system has been done in view of the Aliso Canyon Storage capacity changes and the maintenance of the Lines 3000 and 235-2 lines has been built into the model to more closely reflect actual capacities, etc.
LNG Export Facilities
LNG Jordan Cove and the feeder pipeline Pacific Connector have been turned OFF.
LNG Driftwood and the feeder pipelines Haynesville Global Access and Permian Global Access have been turned ON.
LNG Goldboro has been added and turned OFF.
LNG Cameron and LNG Woodfibre have had their In-Service dates changed.
Infrastructure
Agua Blanca, Cheyenne Connector, Risberg Line, Spire STL, and Whistler Pipelines have been added and turned ON.
Atlantic Coast and the Dominion Supply Header Project have had their In-Service dates changed to November 2020.
El Paso Northern Delaware Expansion, Equitrans Expansion Project (EEP), and the REX Cheyenne Hub Enhancement projects have been added.
Extensive review undertaken of the Sumas, Aeco, Waha, and Kern River areas of infrastructure to improve basis fits in the West and Southwest. More examination is planned for the Kingsgate to PG&E area where recent run-ups in February 2019 basis have been seen in addition to other areas of the West. This phenomena seems to have been driven by events and weather in southern California and British Columbia but may have been less fundamentally driven in Kingsgate to PG&E area.