GPCM® is the most widely used tool for developing market simulations for scenario analysis and forecasts for North American gas flows, price and basis.  It is a complete system of interrelated models for simulating gas production, pipeline and storage capacity utilization, deliveries to LDCs, utilities, and industrial consumers, as well as commodity price at points throughout the North American market.  GPCM's purpose is high-quality market analysis in support of investment decisions which help licensees achieve their corporate goals.
Built for the Future of Gas
North America's gas future is increasingly tied to the global market for gas and LNG.  GPCM is designed to allow market analysts great flexibility in defining demand for North American LNG in the global market.  It also works seamlessly with RBAC's G2M2® global gas and LNG market simulator.
GPCM is built for inclusion of Renewable Natural Gas (bio-methane) and hydrogen.  With it one can assign costs to CO2 emissions to estimate their impacts on the gas market.
Transparent, Flexible, and FAST
GPCM offers unprecedented levels of transparency and flexibility without sacrificing speed or detail. It offers many useful reports which are exportable to MS Excel and other industry standard formats. Sophisticated and powerful, GPCM is a market simulation system which any analyst with gas industry knowledge can use for the benefit of his or her company or clients.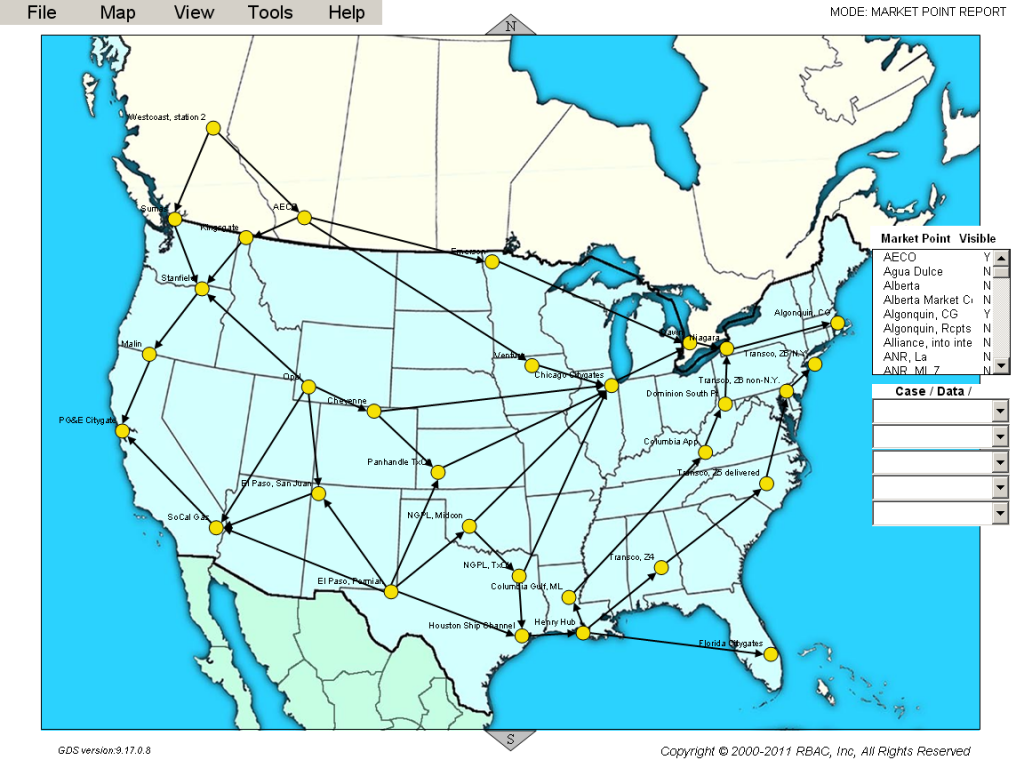 Market Point Price and Basis Report from the GPCM Graphical Display System (GDS)
RBAC provides GPCM licensees with a calibrated data set and regular updates of its long-term forecast of monthly North American supply, demand, transportation, storage, price, and basis. The dataset is calibrated using historical data from 2011 to that most recently available.
GPCM consists of software modules and a detailed database of the North American gas market, the GPCM Base Case.  RBAC's experienced staff of expert researchers and energy industry veterans update that database with new information every three months.  Each update incorporates explicit assumptions for future weather, economic growth, world oil price, and energy industry developments such as pipeline and storage projects, coal-plant conversions to gas, LNG bunkering, and renewable natural gas (RNG) use.
Forecasts using GPCM can run from as few as several months to as many as 30 years into the future. From the foundation of the RBAC Base Case, each licensee creates its own Reference Case and alternative scenarios based on its own assumptions to support the market analyses needed for its unique market position, goals and purposes.
Your Reference Case
RBAC's base case database is completely transparent, allowing users to easily input their own proprietary assumptions into the database creating a reference case from which they can easily generate a wide variety of market simulation scenarios. For optimal security, these proprietary reference case databases are maintained and updated in-house.  RBAC provides tools which enable licensees to integrate their reference cases with the latest RBAC quarterly update without overwriting their own changes and assumptions.
Functions and capabilities within GPCM are continually expanded and improved to anticipate the needs of the industry or rapidly respond to user requests.
The GPCM user base consists of leading energy companies, pipelines, and consultants as well as electric utilities, ISO/RTO's and government regulatory agencies.
What kinds of GPCM scenarios are possible?
Base scenario using existing pipeline tariffs, capacities, and normal weather.
Severe winter or mild winter demand cases
New import/export pipelines between the US and Canada and US and Mexico
Expansions or tariff changes on existing pipelines.
Proposed pipeline projects for new or growing supply sources to markets.
Proposed LNG import/export terminals and capacity expansions.
Proposed gas-to-liquids (GTL) plants.
Increases or decreases of production capacity in traditional areas.
New storage fields or increases in existing storage capacity.
Increasing demand in the gas-fired generation sector
Growing natural gas demand in the transportation sector
Changes in demand due to slowing or rising economic growth rate.
GPCM scenario runs consist of forecasts of the following items:
Production and spot market prices by region and play.
Pipeline receipts from producers by zone.
Pipeline flows and utilization
Transfers between pipelines at interconnects
Injections, withdrawals, and working gas in storage by field.
Deliveries by pipelines to LDC's, utilities, and industrial customers
Gas supply available to each customer in each region.
Market clearing prices in each supply and demand region.
Receipt and delivery price in each pipeline zone.
Capacity release market prices.
LNG import and export volumes and prices.
Natural gas liquids production by region and play.
For additional information contact James Brooks at (281) 506-0588 ext. 126 or click here to contact.
© 2022 RBAC, Inc. All rights reserved.  GPCM and GPCM Market Simulator for North American Gas and LNG are trademarks of RT7K, LLC and are used with its permission.