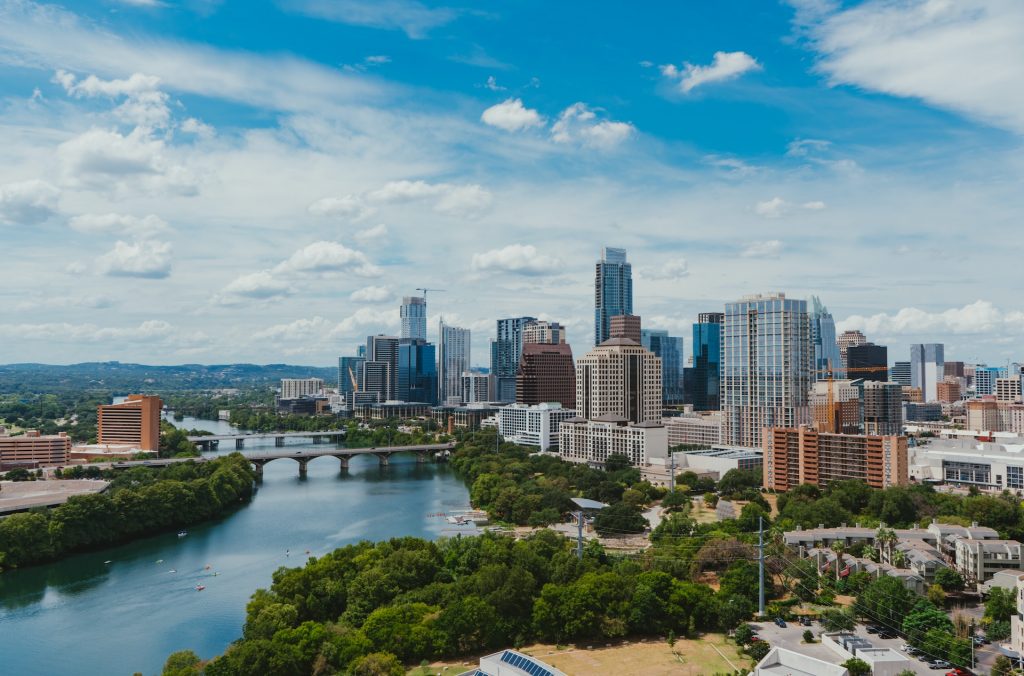 Epic! Awesome! Eye-opening! Are just some of the terms used to describe the 2022 RBAC User Conference held in Austin, Texas, November 16th-18th. This was RBAC's first in-person conference since 2020 and was attended by industry colleagues and clients from across the industry sectors and from around the country and globe. We had a full house for this conference, and we greatly enjoyed seeing our users.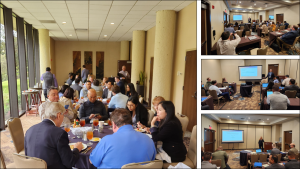 The conference was full of insightful presentations regarding the current and future state of the natural gas and LNG landscape that were given by RBAC staff and guest speakers Charles Merrick (AFRY) and John Abeln (Refinitiv) as well as a on the power market with Norm Richardson (Anchor Power). These industry experts provided their knowledge of current trends within the energy industry and gave their views on where they believe the future is headed.
The conference highlighted a variety of topics such as gas and LNG outlooks on both a North American and Global scale, European gas demand and U.S. LNG exports, and RBAC experts gave hands-on demonstrations on how to effectively utilize the energy market simulation tools from RBAC.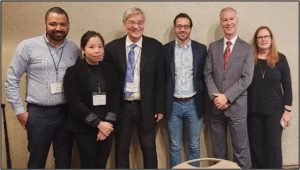 GPCM 22Q3 Forecast
In the GPCM 22Q3 Forecast session, presented by Scott McKenna and Rob Kachmar, we see the total supply of Natural Gas in North America is expected to grow by 11% by 2025 compared to 2021 with shale production making up 62% of the total supply in 2025. In addition, domestic demand within the U.S. is expected to increase long term as industrial and gas-powered generation offsets the losses from renewable and regulatory initiatives.
Global Gas Market Highlights: Demand Uncertainties Rule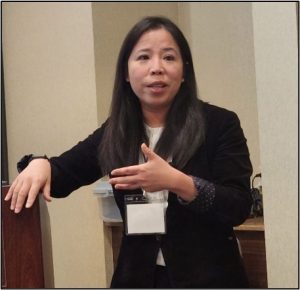 The Global Gas Market session, presented by Dr. Ning Lin, highlighted recent activity in the global gas market. It should come as no surprise Europe's shift away from Russian Gas has caused dramatic changes in the balance of natural gas flows. As a result, Europe has turned to importing LNG from other areas approaching between 12 to 14 BCM per month, an all-time high. Asia also featured highly as one attendee noted, "I really enjoyed the G2M2 Global Gas & LNG Outlook with Dr. Lin and Ed O'Toole. They had a lot of information about the very long-term LNG outlook and how it relates to the near-term outlook and the recent past. It was really eye-opening in a lot of areas. Particularly how China is contracted to take so much more LNG in the coming decades."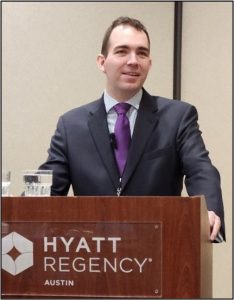 European Gas Demand and US LNG Exports
There were several key takeaways regarding forecasts of the energy industry for the coming decades, such as in the European Gas Demand and US LNG Exports session, presented by Charles Merrick from AFRY, he discussed actions being taken to increase supply and reduce demand in member nations of the EU such as the 6.5 bcf/d of regasification terminals currently under consideration in Germany.
Everything Everywhere All at Once: Infrastructure Project Overviews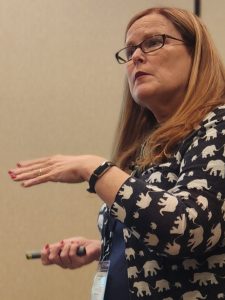 We reviewed different infrastructure projects such as the Adelphia Gateway (In-Service November 2023, 250 mmcf/d) and the WBI North Bakken Expansion (In-Service February 2022, 250 mmcf/d) in Bethel King's, Everything Everywhere All at Once: Infrastructure Project Overviews. In this presentation, projects that are already in-service and ones set to be in-service in 2023/2024 were reviewed to estimate their impact. Attendees loved it, saying, "incredible knowledge", "very helpful" and "really good".
2022-23 Winter Gas Outlook
John Abeln from Refinitiv gave their outlook on demand and price forecasts for this coming 2022-2023 winter season. Henry Hub has seen major spikes in price as much as $7 increase in $/mmbtu compared to this time in 2021 despite the amount of gas in storage being in line with historical averages. John demonstrated weather forecasts and how they work together with his gas modeling work much to the interest of the crowd.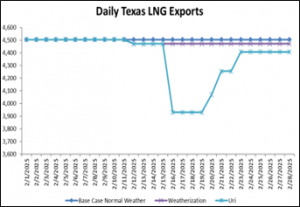 Using GPCM Daily to Forecast the Intra-Month Impact of Extreme Weather
With unexpected weather events getting more attention, we also had demonstrations of different ways RBAC's energy market simulation tools can be used to model a variety of different scenarios. The Using GPCM Daily to Forecast the Intra-Month Impact of Extreme Weather session, presented by Bethel King, gave step-by-step instructions on how to use GPCM daily to simulate how extreme weather impacts supply, demand, LNG exports, and prices.
Integrated Gas and Power Modeling Using GPCM and EnCompass with PMI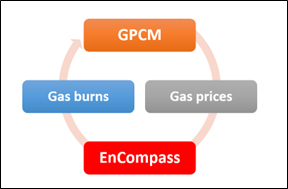 Anchor Power Solutions' President, Norm Richardson, demonstrated how to integrate GPCM with the EnCompass power model in the session 'Integrated Gas and Power Modeling Using GPCM and EnCompass with PMI' or "Power Model Interface". The goal of this integration is to highlight the relationship that natural gas has with power markets as its primary driver of prices. "Capturing relationship between gas demand for power generation and market prices for gas will be crucial for long-term decisions."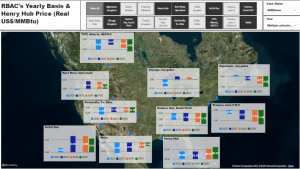 Visualizing GPCM and G2M2 Results with Power BI
Scott McKenna and Ed O'Toole, presented RBAC's visual analytics add-on showing how we've created new and enlightening reports and visualizations of GPCM and G2M2 energy market simulation results with Power BI. This add-on allows you to view a variety of information such as Gas Price and Basis, Regional Natural Gas Consumption, Regional Demand, LNG Exports and several others.
GPCM Supply and Demand Workshops
These two workshops, supply presented by Robert Kachmar and demand presented by Scott McKenna, showcased how to utilize GPCM to create and modify supply and demand curves and scenarios. They gave example scenarios that could be run such as a reduced Marcellus supply outlook and increased LNG exports in U.S. Gulf Coast as global demand seeks increase of supply sources. With GPCM one would be able to see how these different scenarios impact supply, demand, and prices.
The Future of RBAC product Development
In Dr. Robert Brooks, 'The Future of RBAC product Development' session, he highlighted what RBAC is currently working on in terms of their energy market simulation products and services. Some of the planned upcoming changes are completing the Hydrocarbon Production Database (HPD) for GPCM Base Case, automation of the transfer of data between GPCM and any Power Market Model (PMM), and integration of weather sensitivity analysis for global LNG markets for G2M2.
Conference Summary
Overall, this conference was a great success, and RBAC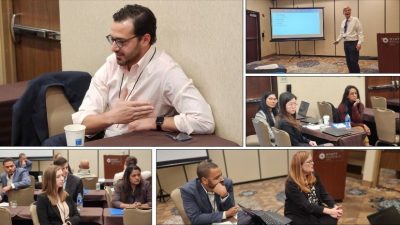 would like to thank both our attendees and our presenters for making this a fantastic experience. We hope that the knowledge you were able to obtain from both the presentations and workshops will be of use to both you and your company in the coming future. We hope to see you again at our next user conference!
If you enjoyed this article and feel energy market simulation could help you, please contact us at contact@rbac.com
RBAC, Inc. has been the leading provider of market fundamental analysis tools used by the energy industry and related government agencies for over two decades. The GPCM® Market Simulator for North American Gas and LNG™ is the most widely used natural gas market modeling system in North America. RBAC's G2M2® Market Simulator for Global Gas and LNG™ has been instrumental in understanding evolving global gas and LNG dynamics and is vital in fully understanding the interrelationship between the North American and global gas markets.