Hard Work. Consistent, diligent, hard work (along with a little help from your friends) makes winning look easy. The American Football Cowboys' running back tandem, Tony Pollard and Ezekiel Elliot, trampled the 8-1 Vikings, scoring four total touchdowns. Their success was made possible by a terrific offensive line. Similarly natural gas producers in the South-Central region have been running gangbusters, particularly the Permian and Haynesville duo. These regions produced an additional 1.97 and 1.77 Bcf/d respectively when compared to last year at this time, bringing their daily production to 15.4 Bcf/d and 13.7 Bcf/d respectively, making up nearly 37% of all dry gas shale production, and setting all-time Lower 48 production records, despite drop-offs from the Marcellus and Utica Shales.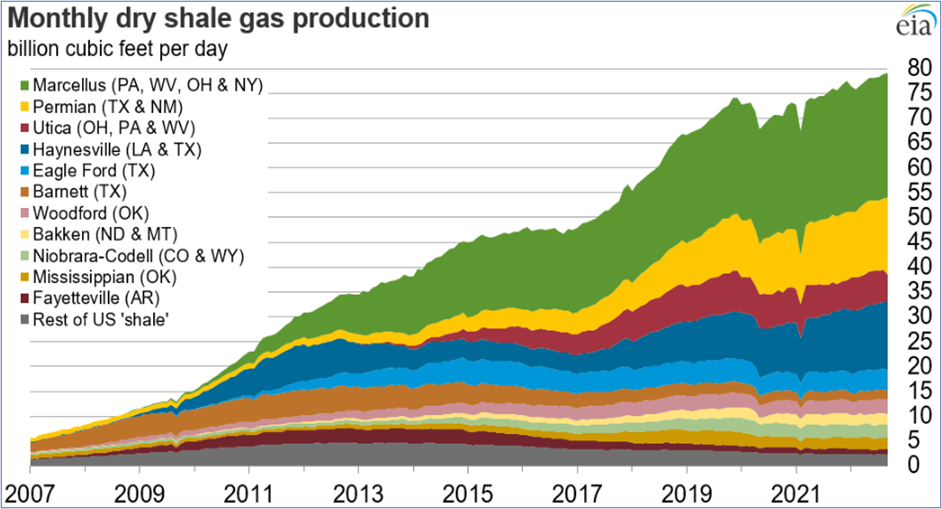 Source : Natural Gas Weekly Update (eia.gov)
Behind production gains, which seem effortless, are South Central Region rig counts. Permian rig counts have more than doubled since their pandemic lows, consistently maintaining the 340 level since May of this year. These percentage gains pale in comparison to those in the Eagle Ford and Haynesville, accounting for 140 rigs, up from 43 during the pandemic, or more than a three-fold increase. A dip from a recent high of 143, but well above recent memory, bringing the total across the three regions – Permian, Eagle Ford, and Haynesville – to 487.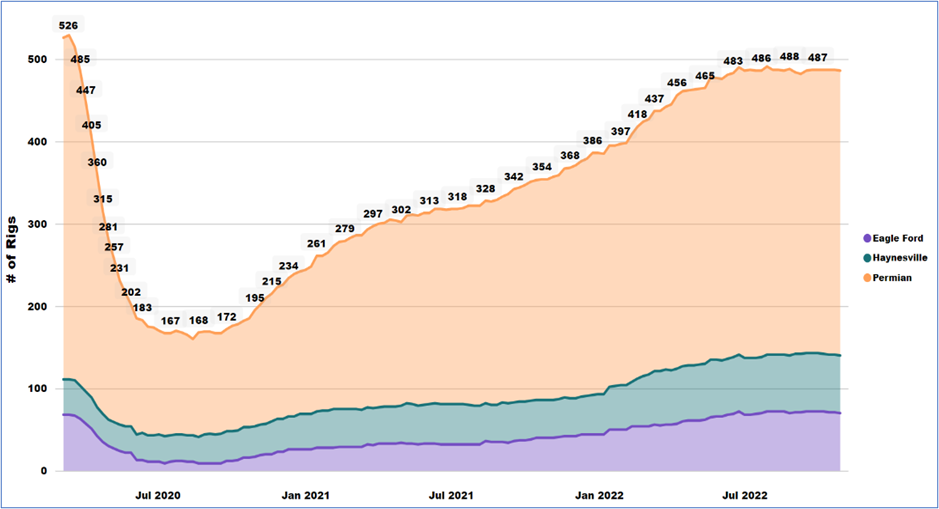 Source: North America Rig Count | Baker Hughes Rig Count (gcs-web.com), RBAC Visual Analytics
Proximity to LNG Export Facilities, favorable economics, and a less restrictive regulatory environment (at least at the state level) suggests South Central rig activity will continue and even increase as supply chain issues are resolved and more export facilities reach completion. As of this writing, the total Lower 48 rig count is 766, not far off the pre-lockdown totals, driven in large part by the relentless hard work of drillers in the regions discussed. It's the diligent hard work of these companies, day in and day out, much like the Cowboys' offensive line. It is their hard work, largely unnoticed, which makes this production (natural gas and yardage) seem effortless.
In a world where hard work and preparation leads to record-setting production, let RBAC's GPCM® Market Simulator for North American Gas & LNG™ be your offensive line, blocking and reducing uncertainty, and freeing up your team to score touchdowns with their analysis, presenting clarity and persuasion in customized reports and looking great while doing it.