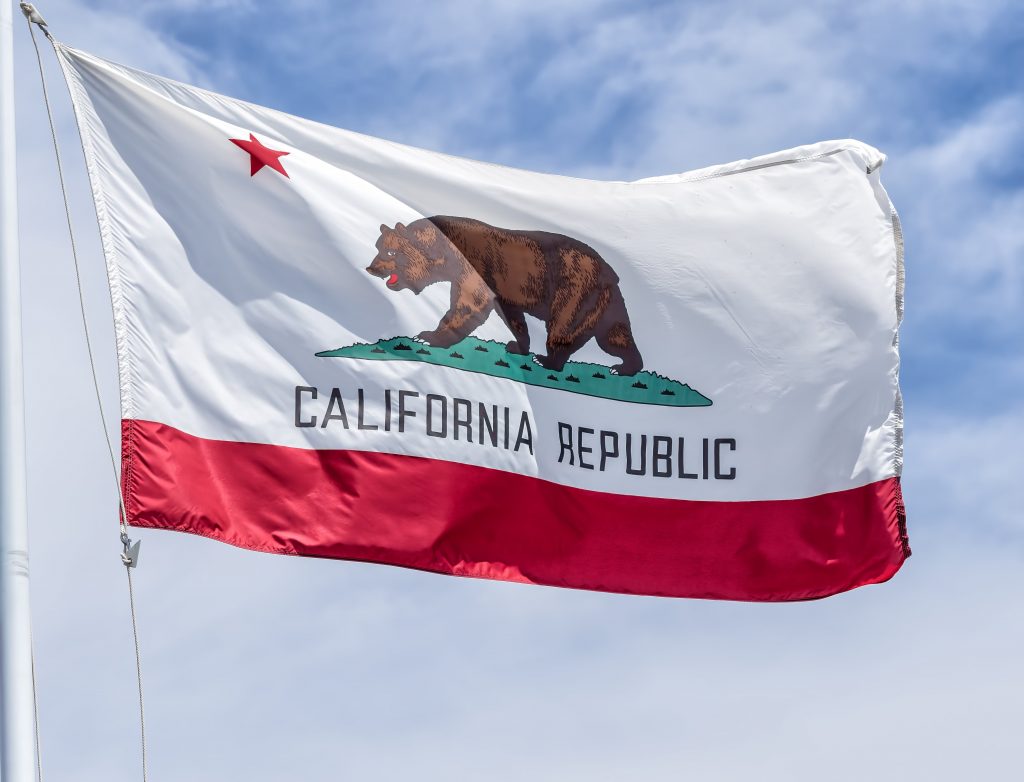 California is certainly a state of extremes. It experienced extreme drought (leading to a low hydro year) and had extensive flooding later in the same year. Winter weather was cold, and parts of California were buried under a 50-year high snow just last week. One should expect some variance in energy prices due to its weather events. But consumers in the Golden State have been plagued by high energy bills, in some cases four to five times higher than a year ago. Is California a victim of its own energy policy or just bad luck? Or both?
As a state long known for green policy and greener ambitions, California has been brought to its knees. Unexpectedly cold and wet weather, outages and maintenance all came together to constrain both supply and demand of energy sources. It couldn't come at a worse time as families are already struggling with inflation everywhere they look.
The state has been looking for answers and it appears to have been the victim of its own policy decisions and sheer bad luck. Scenario analysis, using GPCM®, allows us to identify the impacts of California's policies vs those caused by bad luck—namely the outage on El Paso's 2000 Line, one of the main natural gas arteries from the Permian Basin to Southern California.
The outage was caused by a rupture and subsequent blast on Kinder Morgan's 30-inch pipeline near Coolidge, Arizona, claiming the lives of two people nearby. A horrific accident with large ramifications.
At a time when drought and wildfires forced California to depend on natural gas for power generation, the loss of this artery was sorely missed. A cold winter further complicated the supply/demand balance and had a direct impact on prices.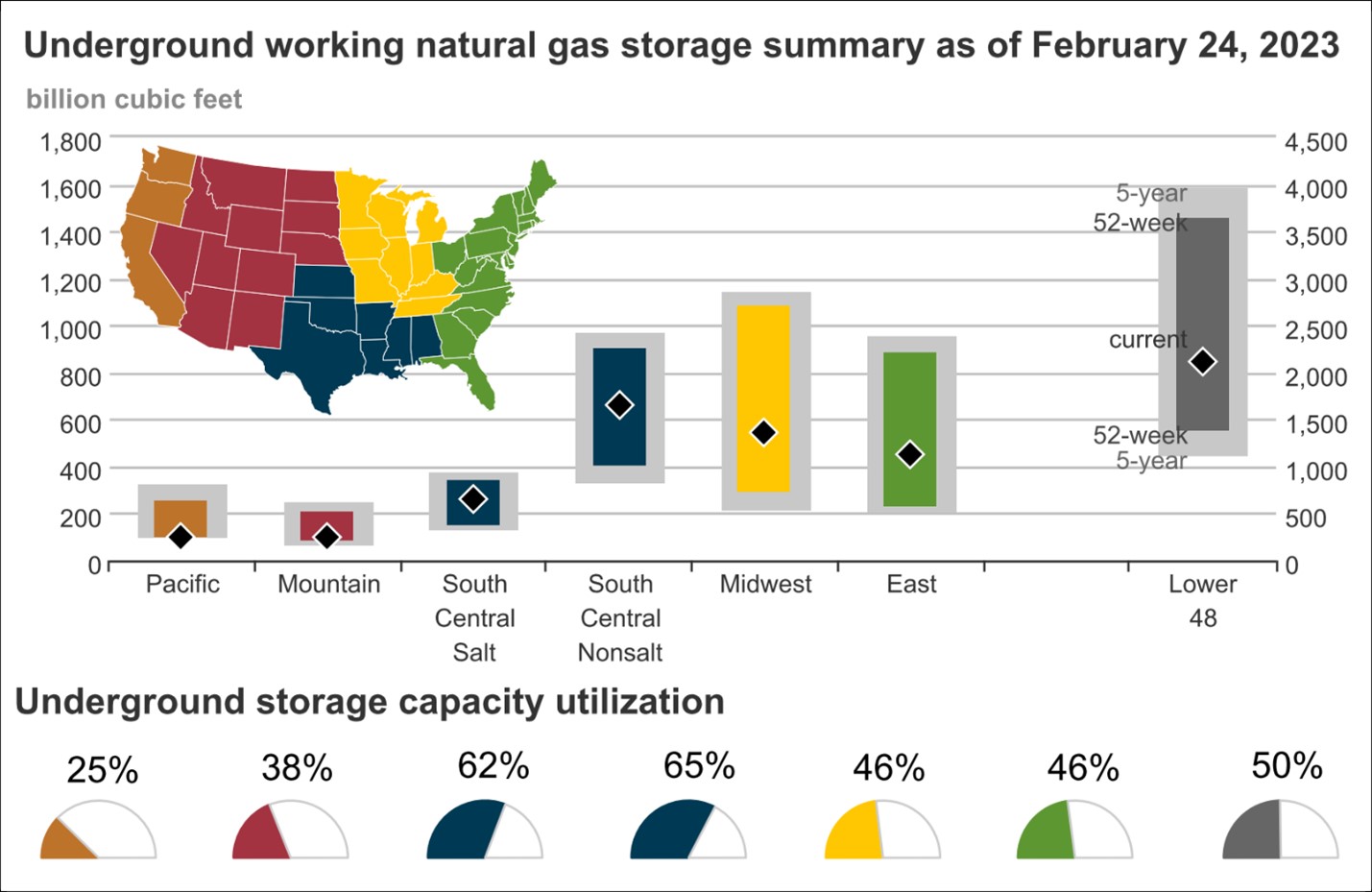 This outage occurred in tandem with record low natural gas storage levels in the Pacific and Mountain Regions, due in large part to the regulatory restrictions placed on the Aliso Canyon Storage Facility after a gas leak in late 2015. This storage facility, the fourth largest in the country, has been forced to operate at half capacity by state regulators. Furthermore, the facility can only be used as a last resort, with stringent rules and public filing requests for use. This impacts markets and limits Aliso Canyon's usefulness to moderate peak demand situations.
By performing scenario analysis and comparing to historical results, we can interpret the results to see how much of the price increases were due to the outage on the El Paso system.
The first scenario includes modeling of the outages on the El Paso 2000L line as well as on the in-state SoCal system. The second scenario assumed that the El Paso 2000L operated at full capacity.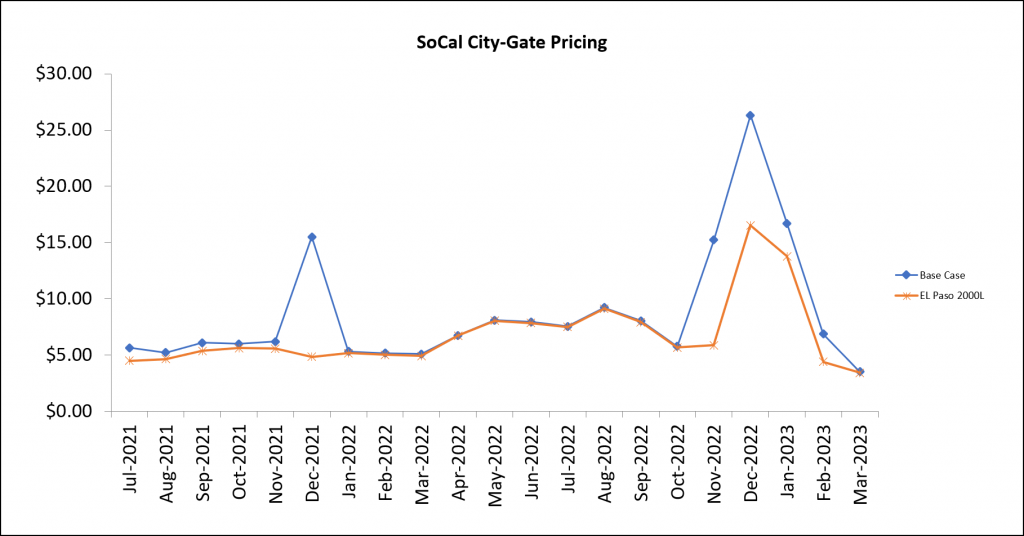 While SoCal maintenance, low storage, low hydro, and high demand factored into the California price blowout this year, the results conclude that the supply of that El Paso 2000L line was key. If the outage had not occurred, SoCal City-Gate prices would be ~38% lower. That could certainly make an important difference for a family's budget. Aliso Canyon provides only marginal benefits which is attributable to the fact that many of its wells have already been permanently sealed, thereby reducing withdrawal capacity – one might say this critical policy decision has proven to be further bad luck.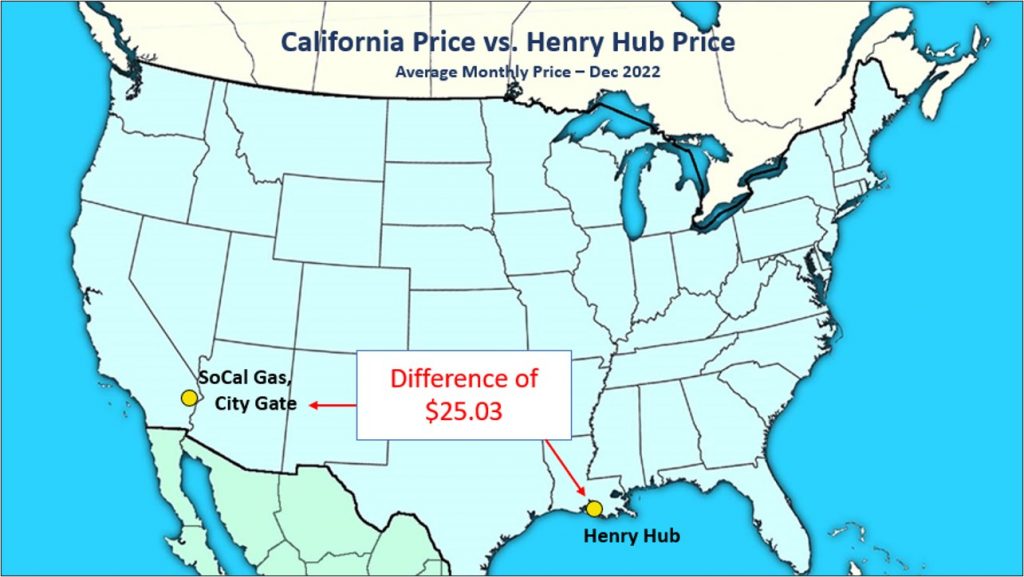 But these insights can give us clues into paths that could change that luck going forward. In particular, this study highlights the importance of interaction between key infrastructure and supply/demand balances, showing how consumers will be affected. By performing scenario analysis with GPCM, companies and regulatory agencies can quantify how people will be affected by specific outages, particularly when weather-driven demand puts upward pressure on prices. Prioritizing maintenance and its funding to reduce unplanned outages will save the consumer both fiscally and from a safety standpoint in the long run. This will put residents' needs in focus when making policy decisions which may have been previously decided based solely on agendas or dollars and cents …
RBAC, Inc. has been the leading provider of market fundamental analysis tools used by the energy industry and related government agencies for over two decades. The GPCM® Market Simulator for North American Gas and LNG™ is the most widely used natural gas market modeling system in North America. RBAC's G2M2® Market Simulator for Global Gas and LNG™ has been instrumental in understanding evolving global gas and LNG dynamics and is vital in fully understanding the interrelationship between the North American and global gas markets. 
GPCM and G2M2 are trademarks owned by RT7K, LLC, and are used with its permission.