Back in 2018 at the United Nations General Assembly, then United States President Donald Trump cautioned, "Germany will become totally dependent on Russian energy if it does not immediately change course." Following that warning diplomats and other foreign leaders were seen laughing at the idea.
Kremlin spokesman Dmitry Peskov reportedly said at the time, "Supplies of pipeline gas do not lead to dependence of one country on another but to complete mutual dependence. That is a guarantee of stability and future development."
Who was right in the end? And what were the effects on European energy security and economics?
Fast forward to 2022, Russia invades Ukraine and Europe responds with across the board sanctions on Russia which included significantly reducing Russian pipeline gas imports into Europe, with oil and petroleum products to soon follow and the Nordstream2 gas pipeline gets scuttled.
Europe, entirely unprepared for this scenario, goes into a frenzy to acquire energy supplies not only for the coming winter, but also in an attempt to ease an already tight market which exploded with uncertainty after Russia's actions.
Now, just past the one-year anniversary of that invasion, Europeans are still struggling to re-establish energy security and boost their sagging economies in an environment where the EU27 are experiencing an average inflation of a 10%.[1]
The United States and other LNG exporters were able to step in to provide much needed LNG to bolster European gas storage levels leading up to the 22/23 winter season, but by August 2022 TTF prices had skyrocketed up over 400% compared to January 2022.[2]
According to the European Council gas storage levels were still above 80%[3] as of January 2023, and it seems the EU is not going to rest on their laurels.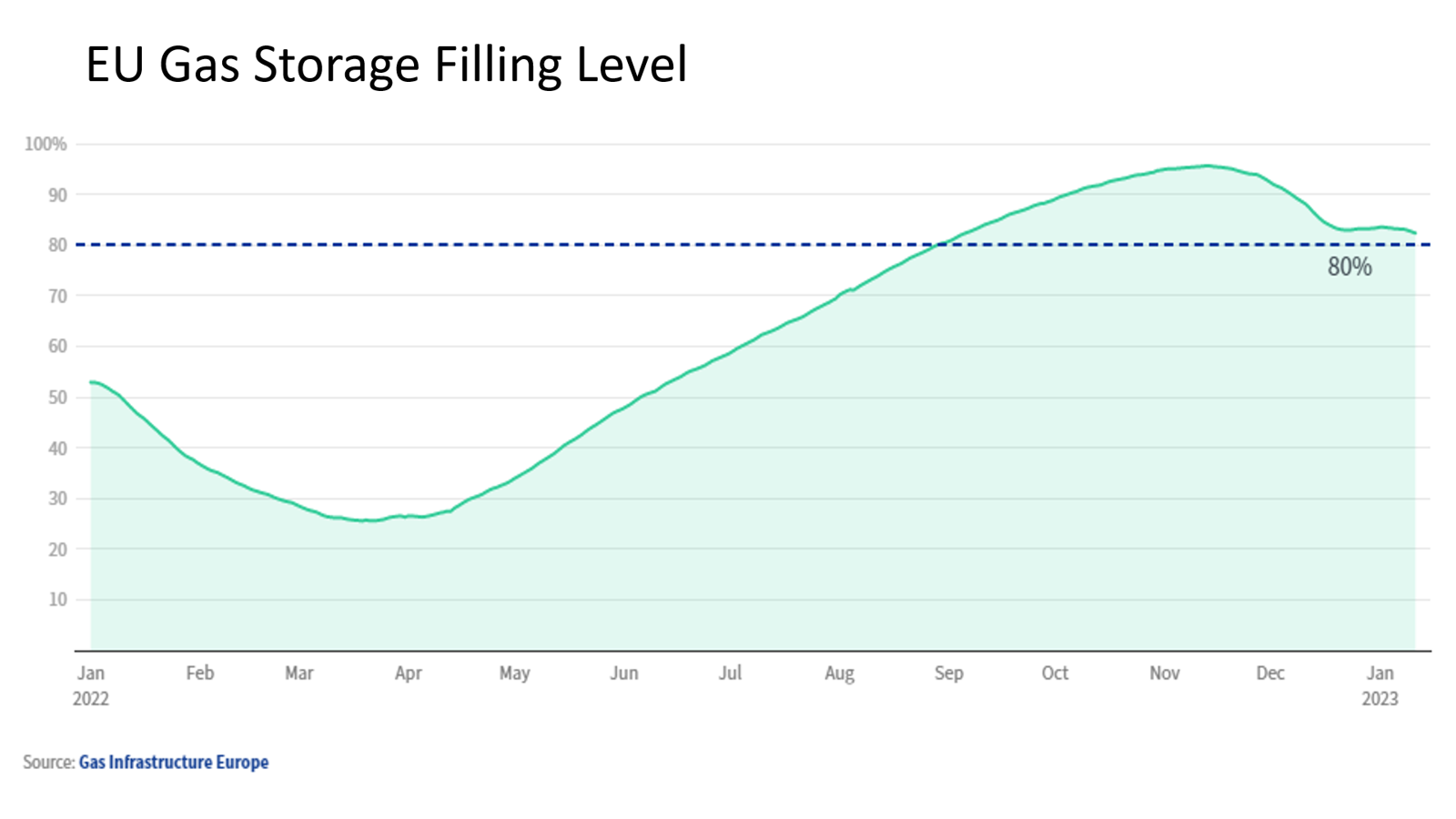 Europeans are further increasing regasification capacity, with year-over-year growth improving from 2.2% in 2022 to 13.9% expected in 2023 (see Figure 3).
Furthermore, and according to Bloomberg, the European Union is creating a "buyers' club" for natural gas for "joint demand from the bloc's 27 nations and three neighboring countries at 24 billion cubic meters over the next three years," European Commission's Vice President, Maros Sefcovic.
Although Europe had led calls for an aggressive energy transition shifting away from fossil fuels, this seems to be a clear indicator that energy security and economics still may hold the trump card at the end of the day.
"We clearly need to turn the economic tide in Europe,"  Sefcovic further stated, "I believe we're creating a new system that will increase competition and bring in new suppliers and push energy prices down. Since we started this exercise, there's enormous interest from international suppliers." [4]
Another indicator of pushback on the potential economic impact of too rapid an energy transition came from Germany of all places. The Financial Times reported, "Germany's Transport minister [Volker Wissing] has threatened to block a core part of EU's green agenda, saying Berlin would not support plans to effectively ban new cars with internal combustion engines from 2035 unless Brussels exempts vehicles running on synthetic fuels."
Following Germany's footsteps, Italy's energy ministry also planned to obstruct the EU's green agenda over ICE bans and enjoined that targets should "avoid negative repercussions for the country both in terms of employment and production." [5]
One thing is clear, there is quite a bit of concern about the EU's Green Deal due to the impacts it could have on Europe's leading automotive market (Germany) "which supports more than 800,000 jobs and is a large contributor to gross domestic product growth in the country." [6]
Moreover, after more than two years of a pandemic-driven economic crunch followed by an energy crisis with natural gas prices soaring to nearly 350 Euros in August 2022[7], coupled with high inflation rates, the appetite to move forward with a green agenda "at any cost" is just not there. Energy policies are now being more closely scrutinized for energy security concerns and economic impact than we have seen in the past few years.
The EU's move to secure LNG on the global markets as a group is a good step towards improving energy security and bolstering their economies. However, with a strong push still coming from Brussels for the Green Deal, will the EU embrace LNG as a long-term solution?
Thinking laterally, one could analyze how gas and LNG could be part of the long-term strategy for achieving environmental goals and improving energy security and economic growth. As you can see in the chart below from EIA, throughout the 2000's the United States significantly reduced CO2 emissions by replacing coal fired generation with gas.
This can be further demonstrated when you look at the shift in CO2 emissions by country over roughly the same period in the chart below. The United States led the world in CO2 emissions reductions, while China and India significantly increased their emissions relying more and more on coal to power their economies.
The world is shifting towards a lower carbon emission economy, yet energy market volatility presents many challenges to achieving our environmental, energy security and economic goals. The current energy crisis, the global economic recession, and geo-political events, such as the war in Ukraine, have thoroughly demonstrated this market volatility.
Former President of the United States, Donald Trump, may not have been popular with some foreign leaders, but he recognized that over-dependence on a single energy supplier carries great risk, in this case Russia. In 2021 when the IEA released its report on critical minerals, the supply chain dominance of China was highlighted for renewable energy materials such as 80% of global lithium hydroxide.[10] Thus, when considering energy transition policy, we must be cognizant of this and not trade one over-dependency for another.   
It took a global energy crisis and a war for the world to realize the dangers of such an over-dependency on a single supplier. Using market simulation software one can better understand changes in market conditions under a variety of different assumptions, such as supply disruptions and other challenges. This is vital for creating sound strategies and promoting good energy policies in the ever-evolving energy industry.
Using such market simulation, a better path forward can be achieved without sacrificing the environment, energy security, or the economy.
RBAC, Inc. has been the leading provider of market fundamental analysis tools used by the energy industry and related government agencies for over two decades. The GPCM® Market Simulator for North American Gas and LNG™ is the most widely used natural gas market modeling system in North America. RBAC's G2M2® Market Simulator for Global Gas and LNG™ has been instrumental in understanding evolving global gas and LNG dynamics and is vital in fully understanding the interrelationship between the North American and global gas markets.