The Asian natural gas market has always been a strong demand market.  China has witnessed tremendous growth of 35% over the past few years, from 237 BCM in 2017 to 320 BCM in 2020. With the construction of regasification stations in the southeastern coastal areas, China's LNG imports has increased year over year, from 50 BCM in 2017 to 91 BCM in 2020, a total of 82% growth. The United States, although one of the major suppliers of LNG, has historically not had a large share of the Chinese LNG market. According to the Chinese General Administration of Customs1, LNG imports from United States is about 4.4 BCM in 2020, accounting for only 5% of the market.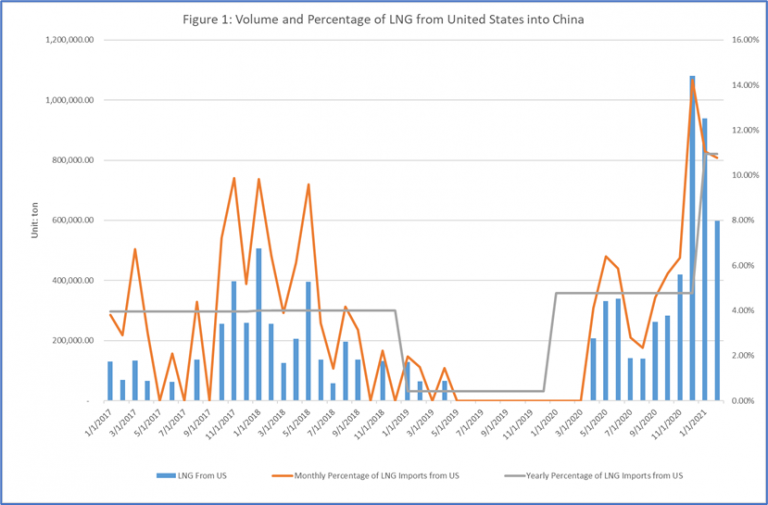 Before the start of the 2018 trade war, China imported a maximum of about 9% of natural gas from the United States every month. LNG trade from the United States to China completely halted for about ten months during the trade war. However, in March 2020 China eliminated LNG tariffs on United States allowing for the LNG trade to gradually recover. Due to an extremely cold winter, LNG imports from United States has accounted for more than 10% of the market for three consecutive months since last December.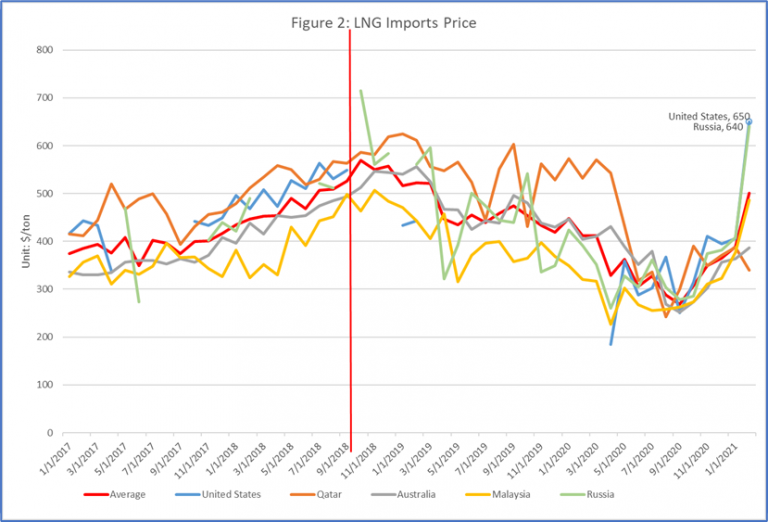 As we look forward, any deal between the United States and China would have a major effect on the global LNG market. The trade war in 2018 briefly raises the price of LNG from Russia, Australia and Qatar. When LNG trade between United States and China restarted in 2020, LNG price from Qatar and Australia dropped immediately, even considering that price had been generally low during the year.
In the long run, China still has diversified sources of LNG. Price of natural gas imports from Malaysia are basically low, while Qatar is always at a higher rate and Australia's prices fluctuate around the mean. Since Yamal liquefaction terminal went into commission in March 2019, price of LNG from Russia has gradually fallen. In March 2020, after the elimination of U.S.-China LNG tariffs, price of LNG from United States has gradually returned back to the average. However, in February 2021, with the exception of Qatar, LNG prices from all other countries climbed, with Russia and United States hitting some of the highest prices.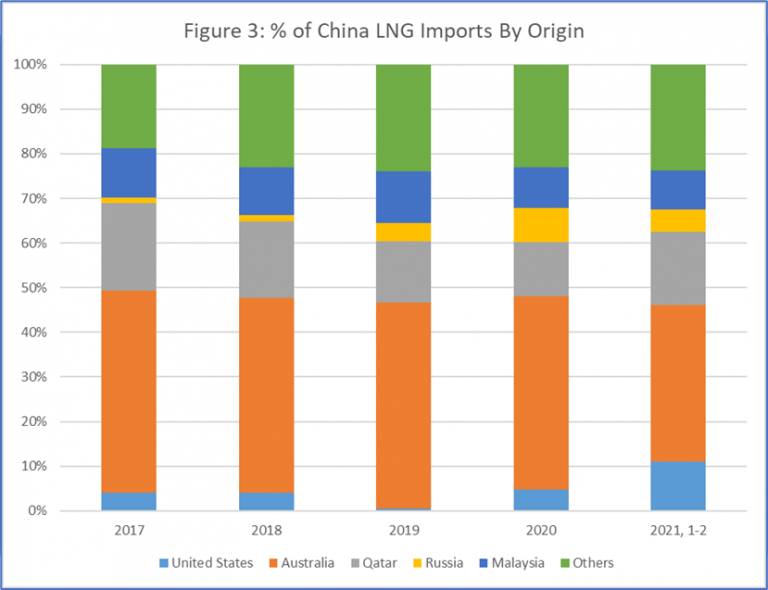 Considering the price changes we have seen during particular events and LNG market percentage shifts over years, it is very conceivable that LNG imports from United States to China could replace imports from Australia in the coming years. While the LNG market share of the other countries has stabilized over the past few years, fluctuating between 51% and 54%, Australia's market share is the most vulnerable and up for grabs.
Historical data might reflect an unclear future in such a volatile global market. However, we have seen that the United States can play an increasingly important role in the Chinese LNG market if they take advantage of the opportunities being presented.
During a time when there is increasing pressure to move away from fossil fuels towards renewable energy sources such as solar and wind, will the United States miss the opportunity to capture market share of the fastest growing LNG market in the world? Only time will tell.
RBAC, Inc. is a leader in building market fundamental analysis tools used by the energy industry and related government agencies for over two decades. The G2M2® Global Gas Marketing Modeling System™ is designed for developing scenarios for the converging global gas market. It is a complete system of interrelated models for forecasting natural gas and LNG production, transportation, storage, and deliveries across the global gas markets. For more information visit our website at https://www.rbac.com.