Europe's Energy Crisis
Back in May 2021, and like most countries, EU was on recovery, post-COVID, importing ~3 bcm of Russian natural gas a week from the various pipelines, and on May 19, 2021, the US announced it would remove sanctions on Nord Stream 2, and Russia was eager to open the taps, completing the pipeline in September. But German regulators stalled on final permitting. Russia appeared to turn the screws by reducing pipeline flows over a tight winter, down as low as 1.7 bcm, some say in an attempt to pressure Germany to approve Nord Stream 2. This really was the start of the EU's energy crisis. Yet, by mid-2022, flows dropped precipitously. 
Russia's steep cuts in gas deliveries to the Europe Union, a drop of almost 80 bcm, equating to 15% of global LNG trade put unprecedented stress on European and global gas markets in 2022. EU had become so reliant on imports from a single source that its loss resulted in a desperate scramble to find new supplies and avoid shortfalls.
Now that some time as passed and the EU member nations have joined together to discuss plans for the future, what does this plan look like, and will Russia have a place in the European gas market again? RBAC's CEO and Founder, Dr. Robert Brooks PhD answered this question at the recent LNG2023 conference in Vancouver using G2M2® Market Simulator for Global Gas and LNG™.
How This Crisis Happened
Before we try to forecast what is in store for the future, let's look back to see how we got here. In February of 2022, Russia invaded Ukraine and was quickly met with various sanctions from Europe and North America. Prior to this, Europe was importing gas from Russia via pipelines in Ukraine, Belarus, and the Baltic Sea. In response to the sanctions placed on them, Russia then cut off gas supplies through Belarus and supplies coming through Ukraine and the Baltic Sea were greatly reduced. In September 2022, the Nord Stream pipelines suffered critical damage, possible sabotage, which resulted in an even greater loss of gas supply, particularly affecting Germany and its neighbors.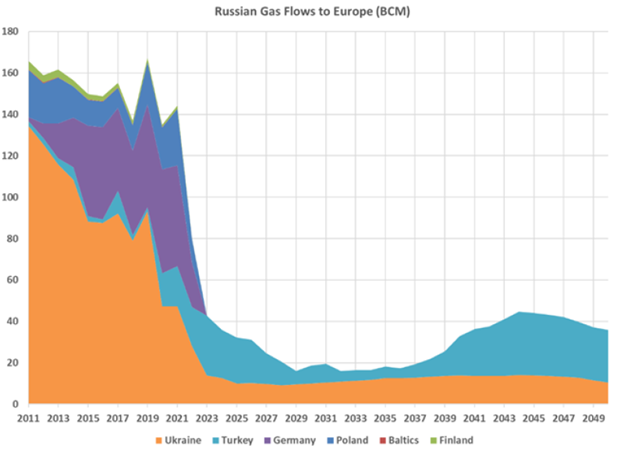 Between February 2022 and June 2023, Europe struggled greatly to avoid shortfalls and eventually was able to make it through the summer and winter seasons relatively unscathed, but at a steep cost. Europe was importing record amounts of LNG averaging 16.5 bcfd and exceeding 19 bcfd at some points. The dramatic increase in imports (precipitated by a combination of the loss of Russian gas and historically low levels of gas in storage) coming primarily from the U.S, Qatar, and Nigeria alongside pipeline imports from Norway, Algeria, and other regions. This may have worked in the short-term, but what are the long-term plans for life without Russian gas?
How Can Europe Make Up for this Lost Gas Supply?
Luckily for Europe they have enough infrastructure and capital that practically all options are on the table to fill the gap that Russia left. Some of these options include both onshore and offshore production, imports from African, Mediterranean, and Caspian regions or LNG imports from other parts of the world. With all these options combined, it looks like Europe will be able to make up for the losses incurred from no longer having access to Russian gas, with some shortfall.

Local production and pipeline imports in conjunction with LNG imports will be crucial to making up the loss of Russian pipe gas, but where will these LNG imports come from?
The United States is a front runner to be a key supplier to Europe in the coming decades. By 2031, its LNG export capacity is expected to increase to as much as 326 bcm, which is about 2/3 of total expected consumption in Europe. However, they are not the only suppliers in the market looking to expand their production capacity and thereby increase their exports to Europe and elsewhere; Qatar is expanding to 171 bcm, Mozambique to 41 bcm, and Canada to 41 bcm–even Russia has ambitions to increase its LNG export capacity to 76 bcm or higher by 2031.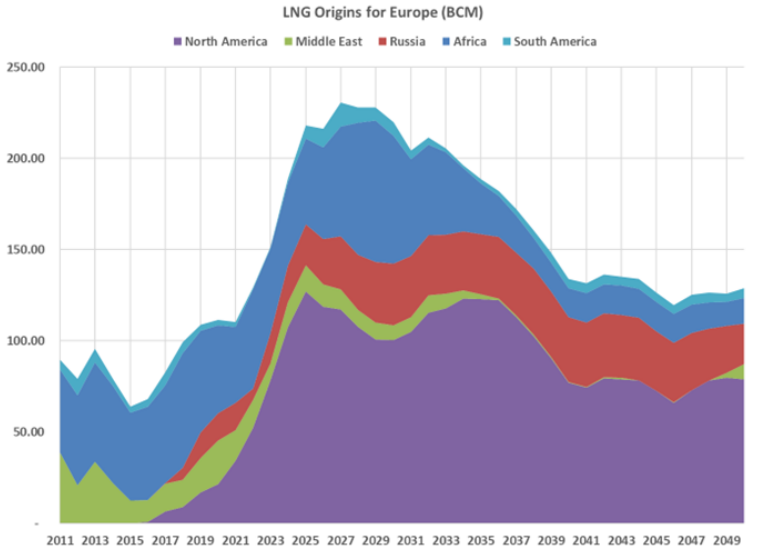 Will Russian Gas Have a Place in Europe in the Future?
When the crisis started the concern was that Europe would be left in the dark and be unable to fill the gaps left by the loss of Russian gas, but now the question is, will Russian gas ever have a place in the European market again? A recent study by The Oxford Institute for Energy Studies concludes that, "That the potential economic impact of Russian pipeline gas is set to decline sharply in the second half of the decade, to the extent that it may well become something of an irrelevance in terms of its ability to have a major impact on prices."
Not only will we see less demand for Russian Gas in the coming decades but also less demand for LNG overall due to Europe's plans to phase out coal and natural gas in order to eliminate CO2 emissions. However, LNG imports will still be needed to fill any gaps. Europe should seek to invest in a mix of FSRU's and permanent facilities for LNG imports as demand gradually declines after the late 2020's.
Europe's Energy Transition
Not only will Europe have less demand for Russian Gas in the coming decades but also less demand for LNG overall due to declining demand. This is because of their plans phase out coal and natural gas in order to eliminate CO2 emissions. However, LNG imports will still be needed to fill any gaps. Europe should seek to invest in a mix of FSRU's and permanent facilities for LNG imports as demand gradually declines after the late 2020's.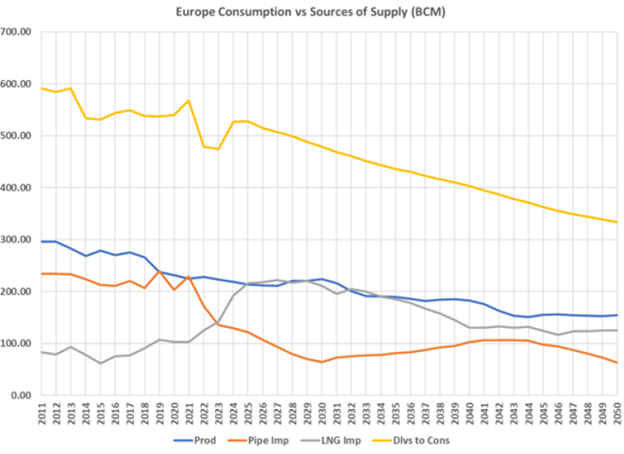 What will Russia do?
With Russian pipe gas no longer dominating the European market what are their plans to make up for this loss of demand? Their options are somewhat limited due to sanctions that recently caused a Russian LNG cargo to be turned away by Argentina.
Russia currently still has LNG contract capacity to some parts of Europe; however, it is declining. Recently, the Netherlands announced they were phasing out Russian LNG with the Dutch Ministry for Climate and Energy Policy saying, "For all new contracts, no Russian LNG is allowed."
Due to the loss of the majority of the European Market for the foreseeable future, Russia may pivot to increasing exports to Asia, a trend which has already been seen in China with their imports of Russian LNG rising from 5 mtpa in 2023 to 7.2 mtpa in 2030. Russia is also making progress towards finishing construction of the first phase of the Arctic LNG 2 Terminal. This terminal is expected to provide a total of 19.8 mtpa worth of capacity and the first of 3 trains expected to be completed between 2023 and 2024. Russia is investing into new projects such as this one in hopes of, "Gaining 20% of the global LNG market by 2035 from around 8% currently."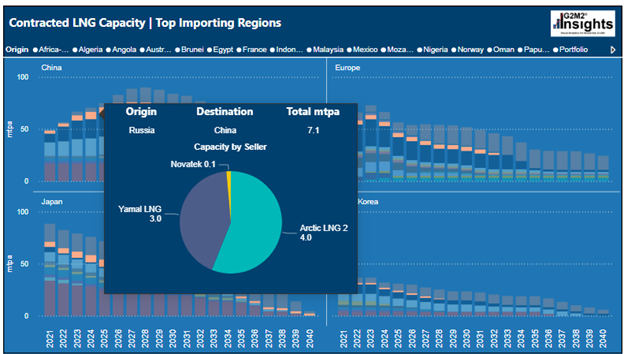 With contracts already in place, Asian demand for Russian LNG won't match demand that Europe had, but these markets are growing quickly and at present seem to be Russia's best alternative to making up the loss.
As for Europe, in order to become independent of Russian gas for good, they need to build the required infrastructure, such as the previously mentioned mix of FSRU's and LNG import facilities, and pipelines required to distribute supplies to the areas that need it most.
Europe can achieve their energy transition goals while providing reliable and affordable energy if they, as Dr. Brooks puts it so eloquently, "Balance energy idealism with workable pragmatic solutions."
For more information on how G2M2 was used to evaluate Europe's energy supply options, contact us here.