Dr. Ning Lin, Jiaxin Yang and Birdy Chen, RBAC, Inc.
In January 2020 the Coronavirus, also known as COVID-19, created a significant amount of uncertainty in the Chinese natural gas market. As China is also considered a major demand center for LNG, that uncertainty has also spread throughout the global gas and LNG market.  The epidemic originated in the city of Wuhan, Hubei Province, China's economic and geographic center, ultimately resulting in the closure of Wuhan.  Hubei Province accounts for more than 4% of China's economy and is located on the second and third lines of China's West-East Gas Pipeline Project.
As the virus spread throughout the provinces, mandatory closures have resulted in disruptions of China's natural gas market as well as all other industrial production and commercial activities.  Furthering the operational disruptions is the extension of this year's Spring Festival due to the postponement of work in many related industries, having a direct impact on China's GDP.
For these reasons it is likely that in the first quarter of 2020, China's GDP will not maintain the same level of growth as in the past, and at the same time, industrial, transportation and commercial natural gas consumption will inevitably decrease. In an effort to contain the virus, the government has implemented strict restrictions on travel and even going out into public.  This has resulted in an increase in the use of residential natural gas.  Up to this point we are not seeing any evidence that the outbreak has affected the natural gas consumption for any power companies.
Source: UN Energy Database and G2M2
Looking at the different market segments, there are several key observations coming out of RBAC's natural gas outlook for China as embodied in studies using its G2M2® Global Gas Market Forecasting System™.
According to RBAC's estimation, about 6% of gas demand in China is in the commercial sector. Although from February 1st, Sinopec Group donated 0.17 million cu m/d to 0.18 million cu m/d to 39 hospitals in Hubei Province, due to the extension of the Chinese New Year and closures of shopping malls, schools and restaurants, China experienced a fall in gas demand in the commercial sector. If commercial activities return to normal at the end of February and the government introduces stimulus policies, commercial gas demand could recover sooner rather than later. However, that is a best-case scenario and it still may take some time for that recovery to reach normal levels based on the impact we have seen on natural gas production. Therefore, full recovery of commercial natural gas demand will depend heavily on when the Coronavirus outbreak has been contained and subsides and supply of natural gas returns to normal.
Residential gas demand plays a major role in LNG demand growth through China's coal-to-gas switching policies. Residential gas demand accounted for about 15% of total gas demand in 2019 and gas demand for residential end users has increased at a double-digit growth rate over the past five years. IEA data shows that the average annual growth rate for Chinese' natural gas demand will be about 8% between now and 2024. While the Coronavirus outbreak has put pressure on the supply side of gas, the residential sector demand is expected to maintain or even experience a small increase of about 5-10% over normal levels due to the extended time off for all metropolitan areas.
However, the combined effect from the Coronavirus on the residential and commercial sectors' gas consumption shows an overall negative impact in 2020.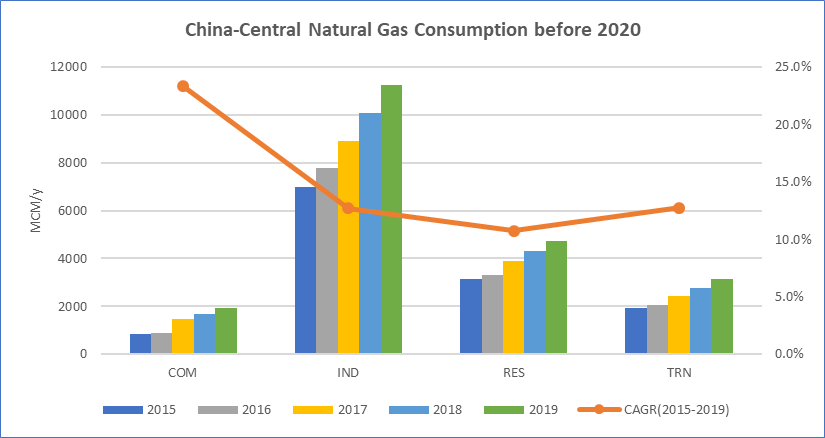 Source: UN Energy Database and G2M2
In central China, industrial natural gas demand accounts more than 50% of total gas demand. From 2015 to 2019 the industrial sector had more than 10% compounded annual growth rates, which is the second fastest developing sector in China. Gas demand in the industrial sector has been the driving engine behind China's gas demand growth. Specifically, the Hubei province is an important industrial engine for China as well as the inland demand center for re-gasified LNG. According to the latest government announcement, Chinese officials have delayed both commercial and public activities, which will affect at least 8% of imported LNG regasification from terminals in the Shanghai region. CNPC Kunlun Energy Hubei Huanggang Liquefied Natural Gas Co., Ltd. which is the first million-ton domestic LNG plant in China has completely shut down. It supplies about 180 million cubic meters of LNG to Hubei yearly. Moreover, it also plays an important role to meet gas demand in Hunan, Jiangxi, Henan, Anhui, Guangxi and other locations in central and eastern China.
The lockdown of some cities in the central Hubei province has made trucking LNG difficult in the region. According to the Ministry of Transport, during the holidays there was a 78% decrease in transportation due to the virus over the same period last year.  LNG truck transportation has been restricted by the logistics of transportation and the local suppliers, such as Huanggang Liquefied Natural Gas.
Further, with the extension of the holidays in 13 provinces, the reduction in productivity directly affected China's 22 LNG import terminals. The truck loads from those terminals have fallen quite significantly due to factors such as the shortage of drivers who might be under quarantine and/or transport restrictions. No one knows exactly how long the effects of the Coronavirus will last.  Looking at the current numbers demonstrates the importance of having the ability to run a wide range of market simulation scenarios to fully understand this situation and how to best operate within this new environment.
Due to the decrease in natural gas demand, which mainly comes from industry and commerce, and the limitation of traffic, LNG suppliers have taken measures to reduce LNG imports. China National Offshore Oil Corporation (CNOOC) recently issued a notice to a number of international oil companies, hoping that the other party can accept the company's force majeure to reduce the import of liquefied natural gas (LNG). China National Petroleum Corporation (CNPC) is also considering the matter. Sinopec Group Co., Ltd. does not have such a plan for the time being due to the small amount of long-term cooperation.
The JKM Asian spot LNG price has fallen below $3/MMBtu, the lowest level ever recorded, on persistent oversupply and weak demand. If reduced industrial activity across Hubei Province extends to the end of February, S&P Global Platts Analytics estimates it would curtail Chinese LNG demand by 5-7%, or 11-15 million cu m/d relative to Platts Analytics current February Chinese LNG import forecast of 222 million cu m/d.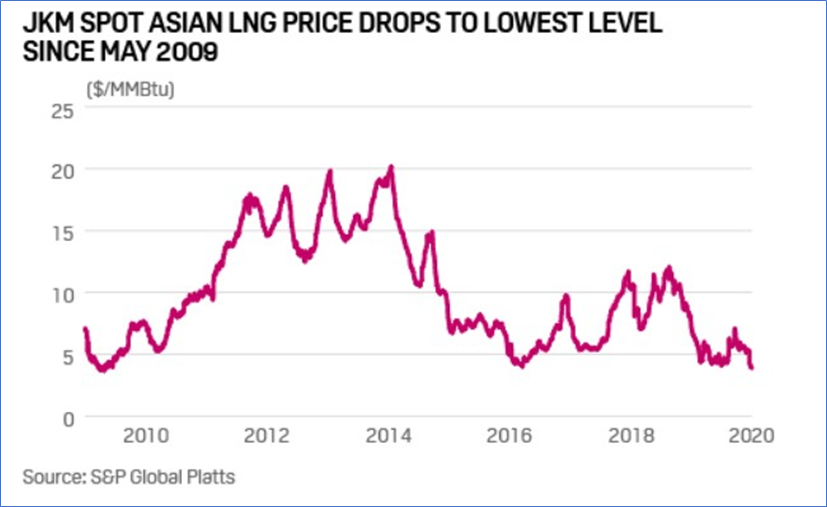 It is still uncertain at this point how much longer the virus will affect China's normal industrial production, as many Chinese manufacturers are reporting challenges of ramping up production due to shortage of labor and inventories in supply chain. With the recent observations in prices, we could see prices in China LNG plummet below $2.50 per MMBtu, assuming a Henry Hub price of $2 per MMBtu and sunk transportation costs. Note Henry Hub prices was at $2 per MMBtu on the day that CDC announced the epidemic event on Jan 17th of 2020, and it has been below $2/MMBtu ever since.
However, the good news is that as of the early morning of February 18th, Beijing time, the number of newly confirmed patients in other regions of China except Hubei Province had fallen for thirteen consecutive days and the cumulative number of patients discharged from hospitals exceeded 10,000. The production capacity of other provinces and cities outside Hubei has gradually recovered. Once the epidemic is over, there will be explosive growth in the use of natural gas and LNG, and it is believed that the epidemic will soon pass.
In a follow up article, RBAC will explore a variety of lower demand scenarios using the G2M2® Global Gas Market Modeling System™ to see the full impact on global gas and LNG pricing.  Stay tuned!
RBAC, Inc. is a leader in building market fundamental analysis tools used by the energy industry and related government agencies for over two decades. The G2M2® Global Gas Marketing Modeling System™ is designed for developing scenarios for the converging global gas market. It is a complete system of interrelated models for forecasting natural gas and LNG production, transportation, storage and deliveries across the global gas markets.
References:
http://m.xinhuanet.com/hb/2020-02/07/c_1125542331.htm
https://www.spglobal.com/platts/en/market-insights/latest-news/oil/013020-china-lng-demand-uncertainty-grows-as-beijing-offers-force-majeure-shield-on-virus-outbreak
https://www.wilhelmsen.com/ships-agency/industry-perspectives/china-lng-trucks/
https://interfaxenergy.com/article/34930/cnoocs-tianjin-fsru-loads-326-lng-trucks-per-day
https://www.icis.com/explore/resources/news/2015/04/10/9873410/china-s-lng-truck-transportation-faces-oversupply-low-crude/
https://www.spglobal.com/en/research-insights/articles/commodity-tracker-coronavirus-and-commodity-markets
https://www.worldoil.com/news/2020/2/6/cnooc-refuses-lng-cargoes-declaring-force-majeure-over-coronavirus
https://www.rystadenergy.com/newsevents/news/press-releases/coronavirus-set-to-slash-chinese-lng-demand-but-us-lng-tariff-lift-could-save-the-day/