The 18Q4base quarterly GPCM database has been loaded to the RBAC website for download.
Please note that in response to feedback from our customers at our Annual GPCM User Conference in November 2018, we have begun the process to update the way we prepare our Quarterly Documentation. You will find 2 documents on the RBAC website ready for download rather than one – 1st) 18Q4base Quarterly Documentation which has more graphs and more comparisons to the previous quarter, and 2nd) the beginnings of a new GPCM User Manual that contains information that was previously in our Appendices and Quarterly Documentation, but will be augmented going forward with more write-ups as a reference tool for our users. We welcome your comments and suggestions as we continue to enhance our materials for your use as GPCM fundamental Natural Gas analysts.
Highlights of 18Q4base
Henry Hub
Henry Hub price level is slightly lower in 18Q4base overall from 2019 – 2050 due to slightly stronger supply outlooks and slightly lower Mexican demand.
Henry Hub Price Forecast (USD per MMBtu)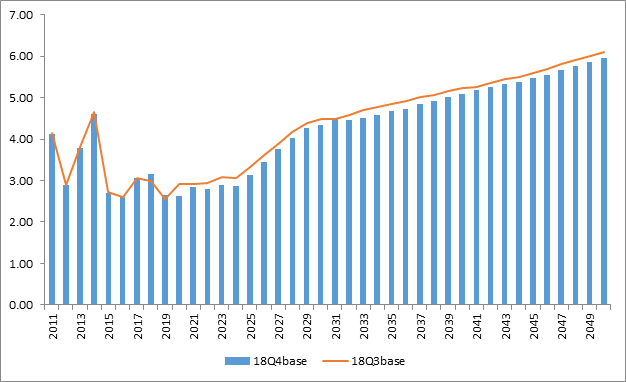 Supply
Estimates for dry gas production in North America increased from our previous release (18Q3base) by 0.5 Bcf/d for 2018, growing slightly to a net change of +0.8 Bcf/d by 2050. Most of the short-term changes are in Marcellus and Permian, while the long-term changes are predominantly in Canada; all result from data updates for 2018. Total 2018 production in the US increased 0.3 Bcf/d from last quarter. Canadian supply increased 0.1 Bcf/d on average between 2018 and 2050; Mexico outlooks changed by less than 0.1 Bcf/d.
Supply outlooks across the US have been updated to include and reflect the latest EIA end-of-year reserves assessments (2017).
Niobrara production was inadvertently assigned to the Denver-Julesberg 'conventional' supply area in last quarter's base case release (18Q3base). We have corrected that error this quarter and moved the volume back into the appropriate Niobrara Shale production supply curve. Net Rockies production is roughly equivalent to last quarter.
Demand
RBAC Inc. re-tuned demand regressions for 18Q4base in both the United States and Canada's residential and commercial sectors. We anticipate updating our demand regressions for the industrial sector in next quarter's base case (19Q1base).
Mexico demand outlooks have been updated to reflect data from the latest Prospectiva reports.
Physical Impacts
The explosion that impacted Westcoast pipeline in the Prince George area has been built into the model
Scrubbing of the SoCal system has been done in view of the Aliso Canyon Storage capacity changes and the maintenance of the Lines 3000 and 235-2 lines has been built into the model to more closely reflect actual capacities, etc.
LNG Export Facilities
LNG Plaquemines Pass and the feeder pipeline Gator Express have been added to the 18Q4base database but turned off.
LNG Calcasieu and the feeder pipeline TransCameron have been added to the 18Q4base database but turned off.
Infrastructure
Old Ocean and EP ET North Texas pipelines have been added to 18Q4base and turned on.
Transcontinental Tariff rates and fuels were updated.
Turned Off Auto-Expand for all zones located in New York State.
Ninety Projects are now identified and linked in the "Project" screen under the Data Input->Pipelines section of the model.