The Rush Toward Renewables
A bold headline to be sure, but let me explain. the past few decades there has been a huge undertaking to move the energy industry away from traditional fuel sources such as coal and oil, and more recently nuclear and natural gas.  The idea is to replace these fuels with alternative energy sources such as renewables (wind and solar), bio-fuels (RNG), and ultimately hydrogen in order to reduce carbon emissions and any adverse effects on the climate.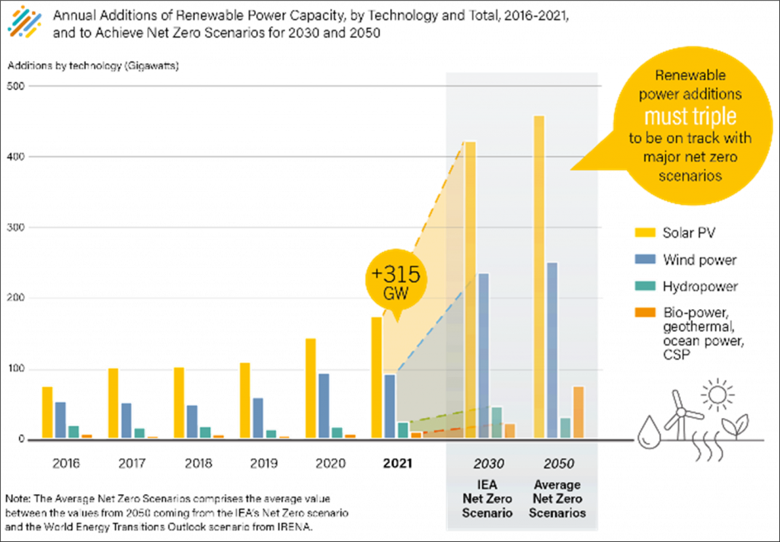 But recent events showed how a lack of resilience in your energy system, including security of supply, can throw a wrench into such plans.
The Pandemic
In late 2019 and early 2020, Covid-19 spread and became a worldwide pandemic. In response, governments and people locked down in attempts at reducing negative health impacts; but an unintended consequence was the economy plummeted with a large portion of  trade tied to people moving and acting freely.  This brought about large-scale unemployment.1
Every industry was affected, including companies responsible for global supply chains.  They struggled with seemingly opposing problems: pandemic worker safety and delivering items for pandemic response.  Thus, even shipments of  medical and protective gear were stalled, as was the entire supply chain machine—and the knock-on effects snowballed drastically.2 The energy industry was not immune, with economic slowdowns causing layoffs upwards of 120,000 workers.3
In 2021, the economy rebounded slightly, but now it was feeling all the effects of supply chain problems, and re-hiring workers and dealing with the challenge of operating during a pandemic that was always "two weeks away from flattening a curve."4
The resurgence of demand for energy, as well as geopolitical issues, caused a natural gas supply crunch that started to show in mid-2021 which continued and was further exacerbated by Russia's invasion of Ukraine and Europe's reduction of Russian piped gas (not LNG).5
Why Say the Energy Transition Has Been Cancelled?
In 2022 and now 2023, we are seeing record coal and gas use in Asia and renewed use coal in the West to meet the demand for energy—demand that is little reduced by growing levels of renewable energy.6
Europe has also had to import enormous quantities of LNG from North America as well as the Middle East to meet their natural gas storage targets, which they accomplished months ahead of schedule.7
Despite these "setbacks" to the energy transition, the U.S., with the Inflation Reduction Act (IRA), and the EU's response was to invest heavily in speeding up its deployment of renewables on the belief that prices would be stable or decreasing and that these could displace fossil fuels as part of an "energy transition" started decades earlier.8
However, I stand by my statement and for good reason.  The biggest disadvantage renewables have versus fossil fuels are intermittency and storage, explained by a researcher of California's power operation, "the hourly data clearly shows why CAISO [oversees power] needs a fleet of flexible resources to maintain grid stability as intermittent power from renewables becomes more prevalent. The ugly truth is that raw electric current from renewables is just too intermittent and too dirty for power grids in industrial societies."9
Even aside from intermittency, there is the issue of mining and the widely reported shortfall of minerals to meet net zero targets.10 Take copper for replacing one coal plant with wind for instance; Professor Michael Goodsite, the University of Adelaide explained, "With current mining techniques and methods and the grade of copper necessary, you'd have to mine about 110 t of ore to get those eight tonnes of copper. Multiply that by 100 [wind turbines] and then by 17 [wind farms] and you get what could be a very large hole in the ground."11 There are approximately 2500 coal-fired power plants globally.
The IEA further pointed out the average time to get a mine into production was 16 years. Meeting net-zero targets by 2050 requires a never-before experienced expansion and rate of mining for the raw materials needed for full electrification, which by all reports, is not happening.12
Before the shocks of Covid-19, the supply chain crisis, the energy crisis and Russia's invasion of Ukraine, the world became complacent on the subject of energy security.
Now, we are seeing a shift toward a more cautious approach to the energy transition which has been trumped by the need for energy security to ensure stable economies.  Countries like Germany, Spain and the UK are recognizing that a longer and more gradual transition process may be necessary, particularly for fossil fuels used for power generation.13
Another signal for this is that even with billions already invested into this effort, both governments and energy companies are already, albeit quietly, scaling back their targets and commitment towards this effort.  Shell recently announced it is no longer going to invest its $100M into carbon capture .14 Other companies that previously "committed" to move away from oil and gas have changed their stance and are investing more in these areas.  "[BP] CEO Bernard Looney's pursuit of green energy outstripped all rivals three years ago when he outlined a radical blueprint to move away from fossil fuels.  [In February] he applied the brakes, slowing BP's planned cuts in oil and gas and scaling back planned renewables spending in the wake of the war in Ukraine."15 Even countries such as the United Kingdom and Norway halted development of offshore wind farm projects due to, "technology availability, rising costs, and a strained timetable to deliver on the original concept."16
Alongside these stalled offshore wind farm projects, these same countries are also further investing in natural gas.  In December of 2022, the United States and Britain announced, "energy partnership aimed at sustaining a higher level of liquefied natural gas (LNG) exports to Britain and collaborating on ways to increase energy efficiency."17 Norway earlier this year approved more than $18 billion in investments towards developing oil and gas fields within the country as they try to increase their domestic production.
Meanwhile, on the stage throughout the world, politicians preach that we are at a point of no return.  "The era of global warming has ended; the era global boiling has arrived," António Guterres, Secretary-General of the United Nations, declared in a news briefing.
Such hyperbole doesn't open the door to any solutions, and energy companies and industry professionals live in the real world, not the PR world.  There are very real problems which humanity faces right now such as energy security, affordable energy access and energy poverty, all of which those who are in the energy business can find and implement real and workable solutions for.  Real people need and want readily available and reliable power and energy.
What we are starting to see is a transformation of the energy transition into a "smart transition", where energy players are pushing back against the doomsday narrative and looking to address the real energy crisis, but in a much more holistic or "smart" way.  These solutions need to utilize all our resources and technology to their fullest extent and help the developing world raise their own socio-economic standing by accessing through investments and development. 
Because the truth is, the developed world cannot have a smart energy transition without including the developing world in the solution. Africa alone has 16% of the world's population but 30% of the world's mineral reserves and large reserves of oil and gas, with new discoveries sparking renewed interest in the continent.
In recent studies RBAC has conducted, we have examined how natural gas and LNG are going to play a crucial role in lowering carbon emissions over the next few decades. Coal-fired power generation contributes far more to carbon emissions than gas-fired power generation does. For this reason, many countries who have relied on coal to meet their energy needs are first transitioning to using natural gas. Countries such as India and Sri Lanka18 are replacing a significant amount of coal-fired generation with natural gas. The United States also successfully implemented the largest carbon emissions reduction in history by replacing coal-fired generation with natural gas. (Figure 6).  There is no reason why this cannot be implemented throughout the world creating more energy security and reducing energy poverty, while still reducing carbon emissions and improving the environment.
However, there is an existential crisis happening that needs to be addressed, but it is not climate change.  It is the destruction of scientific debate.  Going through such a process can lead to better solutions and cooperation.  But with so much rhetoric and perhaps an unhealthy dose of politics entering in, advocates of weather dependent energy (wind, sun and hydro) and traditional energy (oil, gas, coal and nuclear) each go their own way in contention without cooperation which might otherwise lead to faster progress.  This does not save the planet nor reduce poverty.  In fact, it has the exact opposite effect.  We see this with the developing world being priced out of the LNG market by more wealthy countries in Europe and Asia.
Until we realize that we all want to improve humanity and our relationship with the environment, and until we become more willing to work together, there will unlikely be a true energy transition of any kind.  
It is going to take people pushing back against the fear mongers, special interests, and those politicians who seek to reduce freedoms in the name of "the greater good".  It will take true cooperation to really achieve the goals of a cleaner, brighter future.
There is a need to shift short- and long-term energy strategies as the reality of the continued need and usage of natural gas and LNG has set in, with both energy companies and regulators alike.  Running a variety of "what if" scenarios around changes in supply & demand dynamics, new energy policy, weather, and geopolitical events, is vital to creating successful energy strategy and achieving the long term goals of a smart energy transition.
Learn more about RBAC here.
Article authored by James Brooks with assistance from Cyrus Brooks.
RBAC, Inc. has been the leading provider of market fundamental analysis tools used by the energy industry and related government agencies for over two decades. The GPCM® Market Simulator for North American Gas and LNG™ is the most widely used natural gas market modeling system in North America. RBAC's G2M2® Market Simulator for Global Gas and LNG™ has been instrumental in understanding evolving global gas and LNG dynamics and is vital in fully understanding the interrelationship between the North American and global gas markets.