Around the world in 31 days: with the European energy crisis showing no signs of slowing and the World Gas Conference convening in South Korea and RBAC's Founder and CEO, Dr. Robert Brooks speaking on Gas Prices, it was busy time. Read on for more of the hottest topics.
Between a Rock and a Hard Place
"Perhaps, of even more importance, is energy security. With Russia no longer being a suitable source of oil and gas for European markets, the United States has gotten stuck between a rock and a hard place."
Read Robert Kachmar's "Between a Rock and a Hard Place." 
The World Gas Conference
WGC 2022 brought together energy industry professionals from all over the world. The Venue was in Daegu, South Korea, southeast of Seoul. All came together for strategic, commercial and technical insights into the future of natural gas and LNG on the world energy stage. RBAC's founder and CEO was a featured speaker. What was it like? Find out here. 
Dr Brooks Speaks to the Times
"At the WGC 2022 World Gas Conference, Dr. Brooks described a 'methodology for forecasting range of gas prices around the world in different demand scenarios and how they may change due to geopolitical events such as the Russian invasion of Ukraine.'"
Read the Times article in here.
Forecasting Monthly Price Spreads
"The key to the project is not to attempt to make a single point forecast for these prices, but rather to compute a distribution of prices which reflects the behavior of markets under a variety of weather forecasts.  In other words, the project uses a sensitivity study approach to forecast monthly price spreads at these hubs."
Read Dr. Brooks' World Gas Conference Presentation here.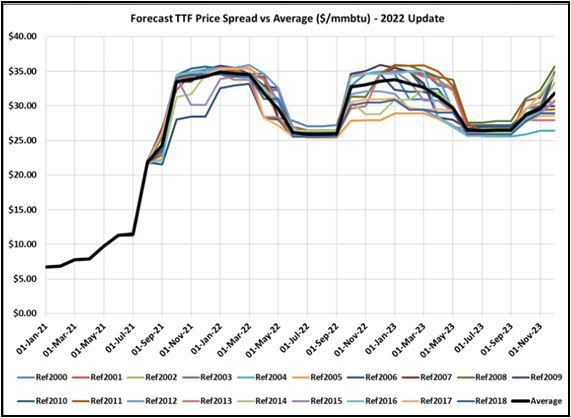 Global Gas Market Simulation
Watch this new short video on the simulation tool used in the World Gas Conference presentation by RBAC's founder, Dr. Robert Brooks, here .
Don't forget to follow us on social media!