On June 15, 2020, the U.S. Supreme Court in a 7-2 ruling reversed and remanded the 4th Circuit Court decision in Atlantic Coast Pipeline LLC v. Cowpasture River Preservation Association holding that, "Because the Department of the Interior's decision to assign responsibility over the Appalachian Trail to the National Park Service did not transform the land over which the Trail passes into land within the National Park System, the Forest Service had the authority to issue the special use permit".[1] The 4th Circuit Court had ruled that the Appalachian Trail is part of the National Park system, and thus the trail is off limits for pipeline right of way.
The main contention in the case was over impacts to endangered species and the U.S. Forest Service issuing a permit that would allow the Atlantic Coast Pipeline (ACP) to cross the George Washington National Forest including tunneling below the Appalachian Trail.
Last December, RBAC published an analysis of the energy market impacts of a potential ruling from the 4th Circuit Court that could scuttle the project. Using the GPCM® Natural Gas Market Forecasting System™, the analysis found that:
there is a demonstrated market need for the project
the pipeline would provide upward price pressure for Appalachian basin natural gas prices
the project's utilization would be seasonal
infrastructure in addition to this project would be necessary to transport Appalachian gas to markets outside of the region.
The article concluded that "if ACP fails to move forward, it's unlikely to have a major market impact beyond its direct customers unless the court rulings signal an increase in the current difficulties pipelines are having to obtain the requisite permits". The Supreme Court ruling does not necessarily mean that this project will proceed since it still faces legal opposition in obtaining other required permitting for the project. However, the pipeline developers expressed optimism in obtaining the remaining permitting and have signaled that they intend to complete project construction by the end of 2021 with an estimated in-service date of early 2022.[2]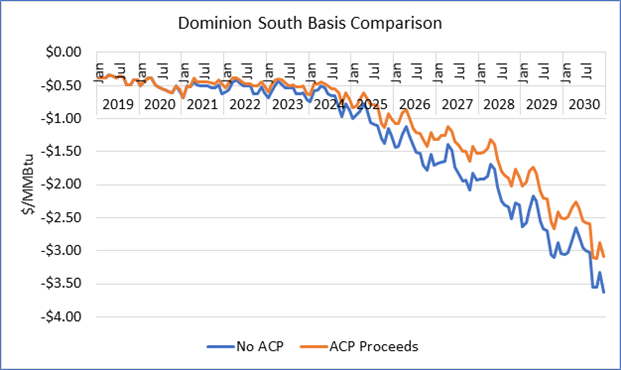 Source: Derived from GPCM
The figure above is from RBAC's December 2019 analysis of ACP's market impact, which forecast that the project would narrow the basis to the Henry Hub by an average of $0.07/MMBtu during the 2020s. The project's modest impact to overall regional prices and flows is due to future competition from other projects that are expected to enter service in the region. However, ACP should play an important role in meeting peak natural gas demand for its customers. Important questions still remain. What will be the likely impacts to markets if this project is further delayed? How will markets be impacted if competing pipelines can't acquire the requisite permits? Using GPCM, one can quickly answer these important questions.
[1] U.S. Supreme Court Docket No. 18-1587: https://www.supremecourt.gov/opinions/19pdf/18-1584_igdj.pdf
[2] Dominion Press Release, June 15, 2020: https://atlanticcoastpipeline.com/news/2020/6/15/supreme-court-decides-in-favor-of-atlantic-coast-pipeline.aspx